Blonde Highlights Looking Grey - Suggestion?
by Kathy H.
(Charlotte, NC 28277)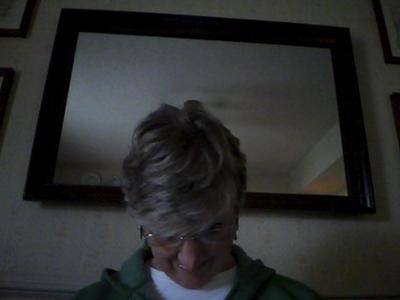 What my hair looks like now. Leftover blonde highlights on bangs.
I have been highlighting my hair myself for over 30 years. I have been using salon level products for the past 5 years - a bleach and 40 developer - and I pull it through a cap.

In the past I have always left the bleach on until the pulled-through hair was a "pale lemon", or ash/platinum blonde, but now that I am almost 60 I am concerned that instead of looking blonde those highlights will look grey. I DON'T WANT THAT!! I'm wondering if I should use a color instead of bleach? When I went to Sally's I was very confused about what product to use - a gold base, ash base or neutral? Should I use a high-lift?

I don't want my hair to look brassy OR grey!!!! What do you suggest? My natural color is blonde, but it has gotten darker as I've gotten older. I don't want to highlight as dramatically as I have in the past, but I still need blonde around my face, or I get depressed. I want to look natural. Please help!!!!