Hair Extensions for Short Hair
Growing your hair out, especially from short hair, can take years. With hair extensions, you can have the long hair you want without the wait. For women suffering from hair loss, hair extensions can be a beacon of light. Not only can hair extensions lengthen your hair, but they also can be used to fill in balding areas and give your hair a more natural, thicker appearance.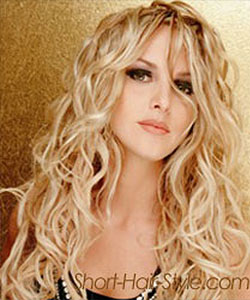 Extension By Egidio Borri - Makeup: Katherine Quiel
Hair extensions are done using different methods like Braid Weaves, Mega Tips or Micro Linking / bounding. Some used as serious extensions to keep in the long-term and some are simply used for fun and a night out! Regardless of the method or intention, always make sure your extensions are done by a professional. Although when done correctly, hair extensions are safe and won't damage your hair or scalp;, if done incorrectly, both scalp and hair damage can occur.
For Short Hair
Here are few advices by King of Hair Extension Jesse Briggs for having extensions with shorter hair:
You can have extensions on short hair if your hair on the sides are 2" long when straight. You may bond hair in 1/4" strands of hair to look natural. For example: Great Lengths has 25 strains per bundle and those can be cut and bonded to hair on sides in 1/4" strands, so that's 100 small strands to look natural per bundle.
Most heads take 5 to 7 bundles to really look natural and you may have short bob or shoulder length or mid back to waist, but if you have a very short hair then your best choice would be just above shoulder until hair grows longer.
Choose a top experience extension expert for a one-to-one consultation to be sure you feel comfortable for the investment of your new look.
The extension should last for at least 5 months when installed correctly by an extension-stylist.
Extensions require care and maintenance and you must follow all steps and guidelines provided by your extension-stylist. Otherwise bonds become weak and hair will slip and start to shed prematurely.
You can blend colors to create a unique and natural look. For example you can blend two colors of dark brown and black "called multi blending" to make the final look natural.
Strand by Strand Technique
One of the system out there is the strand by strand method made by companies such as Great Lengths, Hair Dreams and SoCap.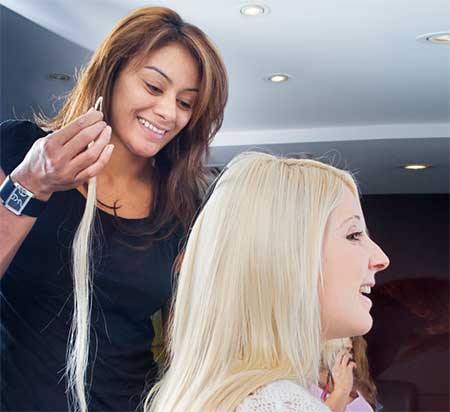 They all use bonds made of special polymers that are pre-attached to small groups of hair to form a strand. Learn more about hair extensions with Strand by Strand Technique.
Extension Choices, Artists and Companies
Whether you're trying to make a half-up hairstyle a bit more impressive or add volume to an updo, there's a great hair extension product for the job. Hair extensions, though, are such a lucrative business that they attract every sort of entrepreneur. If you aren't careful about doing your homework, it isn't hard to end up with someone who shortchanges you on every level possible. Here are 8 Bad Hair Extension Choices for insight.
Clip-in Hair Extension that Remember Your Style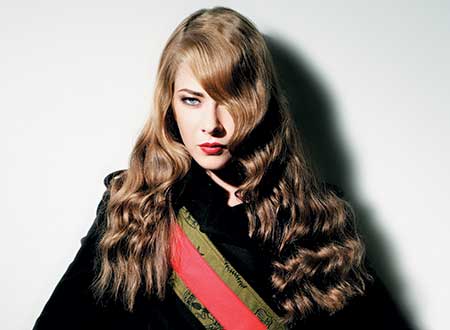 This innovation in clip-in extensions allows you to add bangs, highlight and length to your existing hairstyle in a twinkling. But also a way for your new extension to remember your style! Read more about Clip-in Hair Extension that Remember Your Style from Balmain Hair.
Do the Pony
Extensions comes in all sorts of forms. One of the fun and easy to use is Pony Extensions also known as POP (Put On Ponys). You want to look glam for a night out and create a red carpet super groomed pony style. Just hook a pony at the back!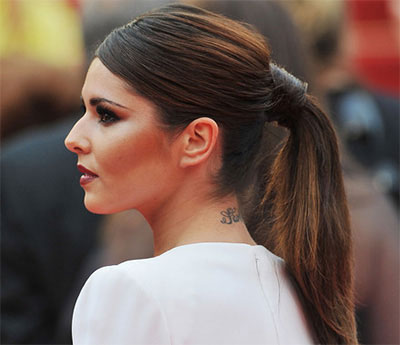 If your natural hair is long enough to make a small low ponytail or bun, then you can choose this option (mostly suitable for medium length styles). Make sure you choose a human hair extension so you can blow-dry and use straightener for slick look.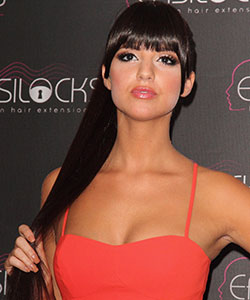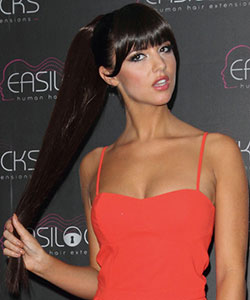 Lucy Mecklenburgh wearing human hair extension for Easilocks - Photo: Landmark
On The Fun Side of Hair Extension
Feather hair extensions are a fun new fashion trend for women, men, teens and kids.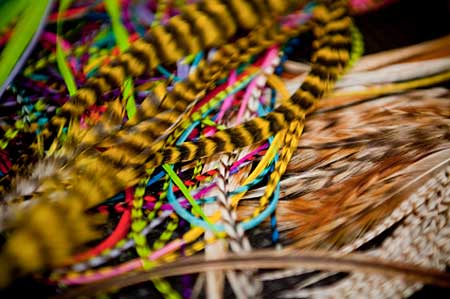 These extensions use the same basic application technique as hair extensions, can be brushed, straighten, curled and be customized for any length. Learn more about feather hair extensions
Few Words about Wigs
Wigs are great alternative to extensions. A bad haircut, a night out with a dress that goes with blonde hair while you have dark brown, or perhaps you shaved your hair for medical reasons and need a solution to grow out your hair. We thought few words from experts could be helpful to make a better purchasing decision.