Short and Medium Hair Styles
Explore Your Options
You would be amazed on how many styles you can achieve with short hair. You can take a straight rounded bob with an overlong, asymmetric fringe and transform it into soft waves, by using curling irons and create a tousled effect. Or just break all the rules, by putting wax on your hair when it's wet and then blowdry it. Your hair will then bulk up and making the texture appear thicker and chunkier.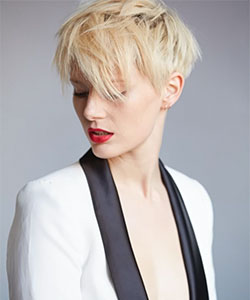 Haircut By: Rodney Cutler, Model: Louise
Flip through these style collections and check out styles of women with face shapes similar to yours, to get a good idea of how they'll look on you.
Very Short and
Pixie

Styles
Very short hair and pixie styles brings a lot of attention to the eyes. It particularly suits those with narrow faces, pretty neck and smooth skin. Read stories and get inspirations from around the world.

Recognize your need and try to work with your hair and keep low-maintenance and flexibility in mind.

Look for hair styles that support your busy lifestyle yet highlight the full femininity in you.