From Shoulder Length to Platinum Blonde Pixie Cut
I went from shoulder length dark golden blond medium coarse textured and wavy hair to short and platinum blonde. My hair was bleached with 40 volume peroxide and white powdered bleach for 30 minutes, this is the same formula used for touch ups as well.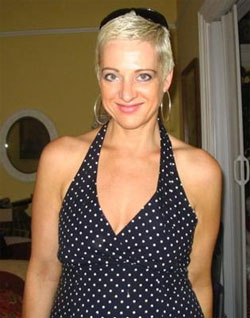 by Brett Thompson -(New Jersey)
In this photo I had about 1/8" of new growth which is when I love the color the most. I was a level 6 or 7 when first colored at the salon.

My only advice for going short is dress feminine and or chic avoid polo shirts unless you are in your teens or early 20's as they make you look to preppy & masculine.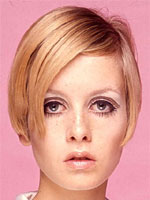 Image:vogue.co.uk
Moreover, stay fit and trim, your body takes center stage pear shaped women with really short hair can end up looking like bowling pins.
Fit shoulders and sculpted arms and an athletic body keeps your short hair sixties sexy and waifish. Think Edie Segwick, Twiggy, Mia Farrow of Rosemary's Baby and Victoria (Posh Spice) Beckham.
At first with the short hair I felt naked but the compliments kept coming and I feel so dressed and polished and chic at all times. Now, I love my short hair. It is so liberating. Plus earrings become your new best friend. You stop thinking about your hair (because it always looks good) and can focus on other areas of beauty like health and fitness and fashion. For women this can be liberating, as hair is so much a part of the feminine psyche, and we as women spend way too much time thinking about it & styling it.
I have been wearing short hair for 5 years now and am tired of the blond would like some contrast so thinking of going to dark brown for a while. Seems brunettes are very in style now probably because of the Twilight phenomenon. Then once brown maybe grow it out to shoulder length, but will wear wigs during bad phases of growth.
When you go short it is so chic and if you can pull it off it is stunning. Long hair does not have the same impact as short hair unless you have the long thick flowing hair of a hair model and realistically, few women do.