New Hair Styles - What's Trending
Hair trend continues to follow IT girls of Fashion or Instagram fashionista. A new trend that reflect "Live for the Moment" type of fashion. All unconventional young women with attitude that break fashion rules despite being masters in following them. Hair is used as an extension of their outfit. They love playing with contrasts and creating their own looks – original, creative and always authentic.
Style By Hair Benders Internationalé
Professional designers are letting hair appear more natural to invokes a feeling of excitement and movement. Slicing, point and feather-cutting setting the tone. Among all haircuts for short hair, different variations of "pixie" combined with undercutting technique is still on top of the chart.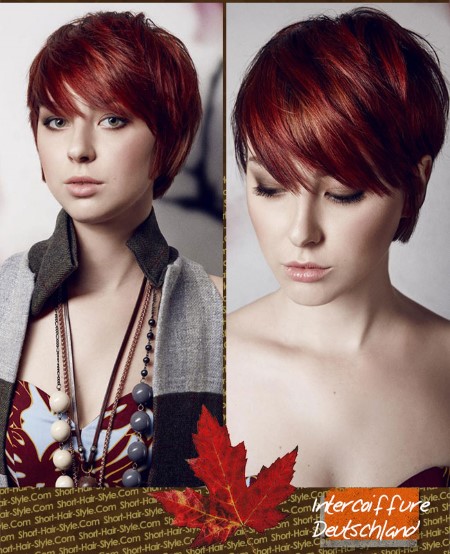 Intercoiffure Deutschland
As for Colors - Multi tonal highlight is still trending and it will allow artists create playful hairdo with sensational effects! Versitile haircuts can be matched with colors such as Golden Blonde, Sunkissed Copper, Cherry and Violet Red. The game is on and there are no specific rules - from subtle pastel to high-contrast bright and even sticking-up ponytail extensions with light-blue streaks. For chin lengths and longer, there will be all sort of adaptation of muti-tonal, dimentional and transitional (a.k.a Ombre) coloring with fade-upward , fade-downward OR high contrast effects but more on natural colors. Go out and get your own signature style.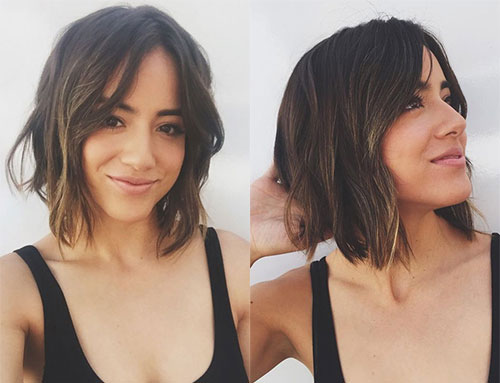 Chloe Bennet @chloebennet
Chloe Bennet playing the role of Skye on
Marvel's Agents of S.H.I.E.L.D
, cut her hair into this casual look in order to stay true to the comic book character Daisy Johnson. In her interview with People magazine she said:
"After haircut, It was crazy. I cried a little bit, to be honest, and definitely had some anxiety"
. But now that she's gotten used to her shorter look,
"I'm in love with it,"
she said.
"And I think for the character, it is going to be awesome."
–
"My confidence is apparently attached into my hair,"
the Chloe, tells PEOPLE.
The Long and The Short of It
Salon Trend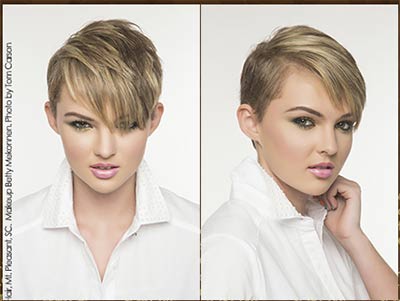 Style by Frances Dubose from London Hair Inc of Mount Pleasant, SC
A
great and versatile haircut
- easy to wear for everyday use but also cute enough for date night!
That Girl is Still On
Fire!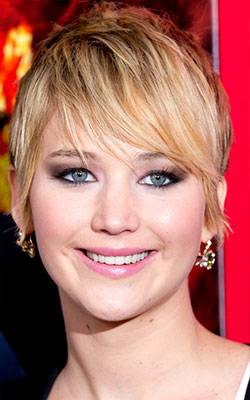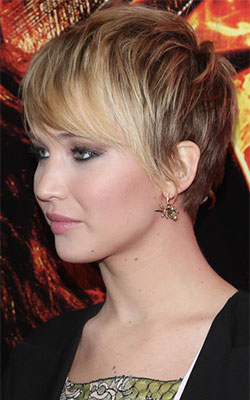 Photography: Janet Mayer (left, above), Nov. 2013, NYC, USA and Rob Kim (right,below)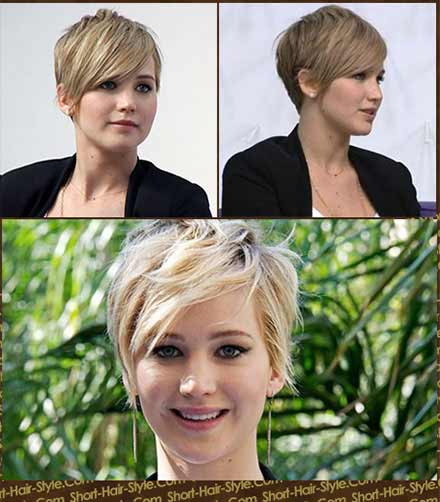 Jennifer Lawrances's look in these photos are nothing less than awesome!! and short hair suits her nicely. During Q&A with Yahoo's CEO Marissa Mayer, Jennifer revealed that there is no special or exciting story behind her hair cut and she just did it because she was tiered dealing with her annoying shoulder-length hair and she just cut it all off.
It is all about
irregular

structures
Hair Trend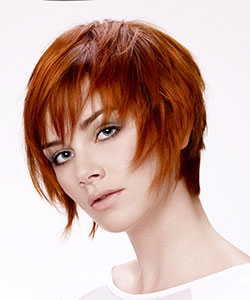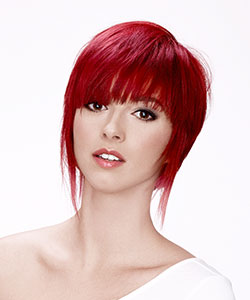 Photo: Sebastian Damberger, Intercoiffure; Makeup: Andrea Filthaus
"Blow-dried too much or styled too much was yesterday," fashion director Kay Schneider describes the current trend. Women today want lively, irregular structures and a lot of movement in their hair.
Katy Perry

And Her New Look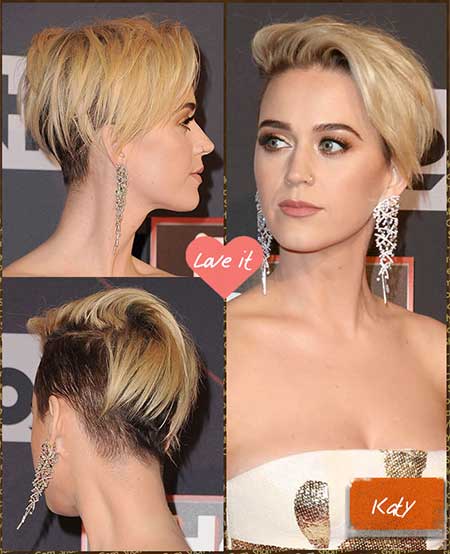 Hair by: Chris McMillan, Hair Color: Justin Anderson, Melinda Miller-Rider
When Katy cut her hair she posted it on Snapchat and said, "Guys, I love it. I feel very free. Now, there are other, much more important things going on in the world. Tune in to that". Some comparing the haircut to Miley Cyrus but Katy is citing Michelle Williams as inspiration. Later on, she said she wanted her haircut to redefine what it means to be feminine.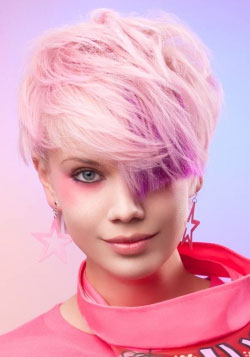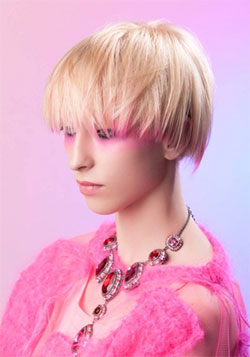 By Intercoiffure Mondial for 2016
Obviously its all about fresh colors of pink, violet and fuchsia (Magenta). Haircuts shown is in pixie short and eccentric Pop-Art style, with soft contours and an unstructured texture combined with dip-dye effect in fresh colors.
"Happy people are more successful and productive in life. They are radiant, listening to the others, they have dreams, are serene, emancipated, and often offer till a piece of their heart."
Go for a Happy Hair Style and reveal your joyful side!
For more inspirations and advice on creative hair colors look here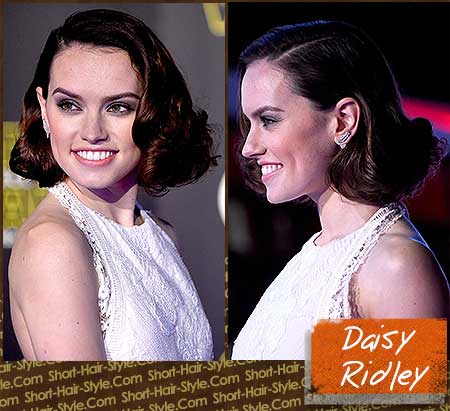 Style by: Robert Vetica
From a Galaxy far far away .... Comes Star Wars Force Awakens' new star Daisy Ridley (Ray) with a cut above shoulder in modern retro glam hair style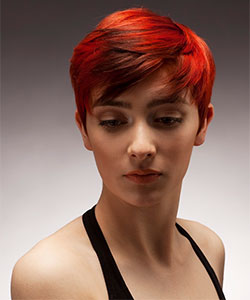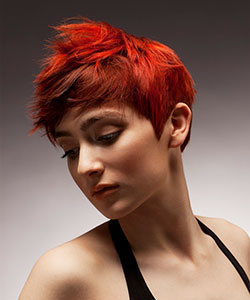 Style and color by Philosophy Salons Team
We selected this beautiful style from Philosophy hairdressing in UK with three salons located in Oxford, Abingdon and Witney. The vibrant orange red on top and a peek-a-boo effect of earthly brown on lower layers and fringe is just like looking at blushing red leaves right before they kiss the earth.
60s Big Hair and Curls

with Twist of Today
Hair Fashion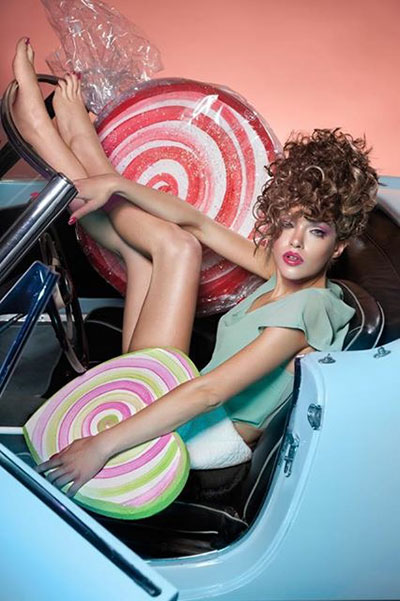 Style By Egidio Borri, Yellow Strawberry Italy
Makeup Artist: Barbara Corso, Dress: Siria Andereoni Jvos
When everyone else wearing sleek straight hair, somethimes is fun and sensually appealing to see luxurious curly hair. BonBon which is the name of Egidio Borri's hair fashion inspiration is packed with intense visual power. Soft pastel colors with a play of '60s and '70s that evokes a sentiment of optimism, fun and fantasy. Express yourself, get inspired and have fun with colors.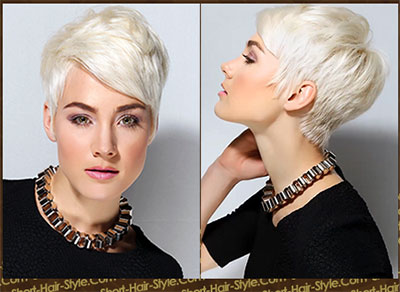 by Paul Kenneth Artistic Team, Massachusetts USA - www.pksalon.com
Razor hair-cut in platinum blonde with side-swept bangs. With bright blonde like this you can really have fun with make-up. Pucker up with vibrant pink for a flash of color that will really put you in spotlight.
Casual Indigo Tribe
Fashion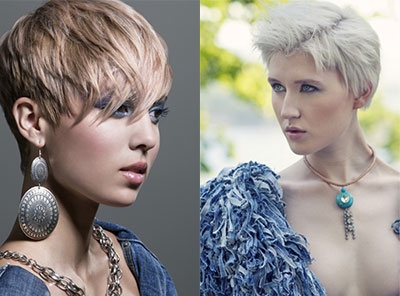 Intercoiffure Mondial creative team, Nordic Region
Young and hip short hair cuts in retro 60s Dandy-girl look with out of bed layered style combined with denim outfits and accessories. A fresh casual look in indigo – A blend of Scandinavian blond with casual bohemian styles of Indigo Tribe – These styles are part of White Night 2015 Oslo collection by Intercoiffure Mondial creative team.
Around the world

with short hair
Street Fashion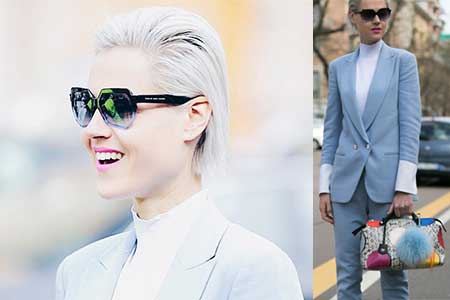 Dutch streetstyle icon Linda Tol, trendwatcher and the owner of LindaTol.com with her boyish look and androgynous short hair style wearing Fendi jacket and trousers - Sunglasses: Marc by Marc Jacobs
Deep Side Parting and
Hollywood Waves
Hair Trend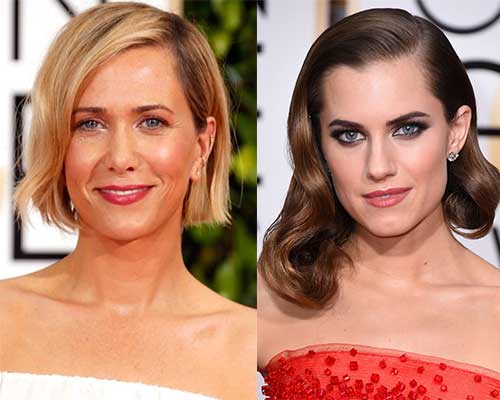 Golden Globe Event 2015
Deep side parting with soft, subtle and romantic Hollywood waves from Golden Globe. Like to know about ways to part your hair?
Seven Ways to Part Your Hair For a New Look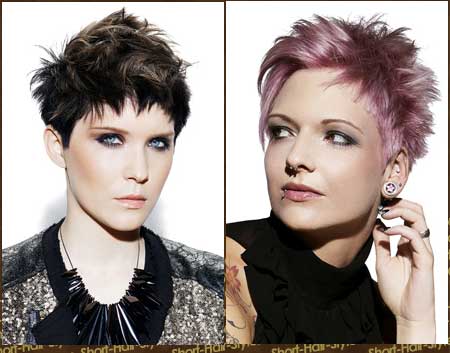 Photo: movinghair.com
The Artistic Team from Moving Hair Salon took their inspiration from 80s for this collection. The focus is toward layering and easy to move hair style. Small, fancy bangs combined with diagonal highlights or pastel shades emphasize the volume and gives structure to overall look.
HOT

Red - Versatility and Harmony
Style Showcase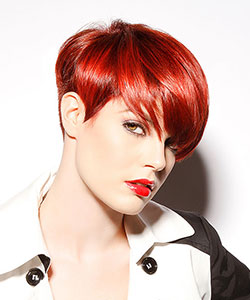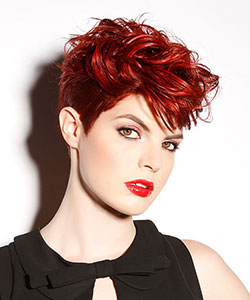 Style By Candy Shaw Codner; Makeup: Betty Mekonnen
We truly like this haircut by Jamison Shaw Hairdressers from Atlanta. There is a beautiful harmony between deep rich red hair and hazel eye color against pale skin tone. The haircut itself is versatile and shows how the same haircut could be styled in two different ways. You can see more work from Jamison Shaw on this page from Modern Salon Magazine.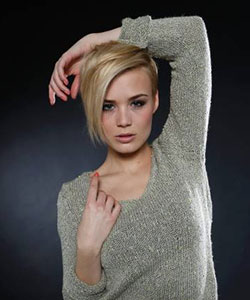 July 2013
Cute and adorable haircut with long side bangs! Yes this is Dominique Rinderknecht and she was Miss Switzerland 2013.
Short Crop

with subtle wave
Style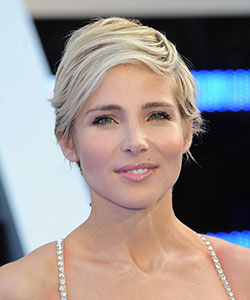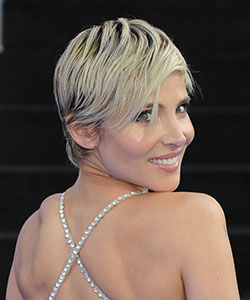 Elsa Pataky - May 2013; London
Do you like math? Probably not! But we wonder if mathematic got something to do with this style. A lovely crop in bleach blonde and darker roots styled with "Integral-shaped" fringe.
Short hair

in Formal Style
Style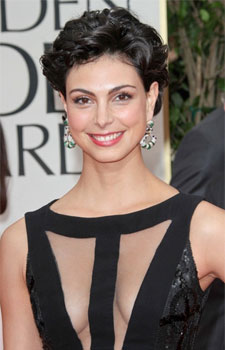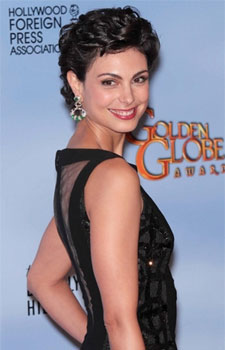 Morena Baccarin with short elegant updo - back-combed and curled into a formal look - Photography: Andrew Evans
Straight with Side Fringe

in Bob Style
Fashion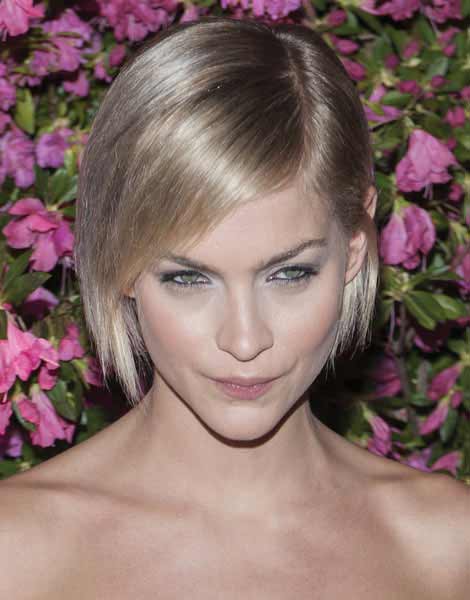 Leigh Lezark, New York City - April 2013 - Photo:Marco Sagliocco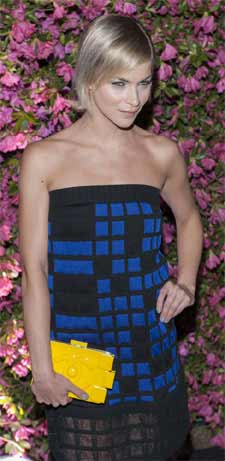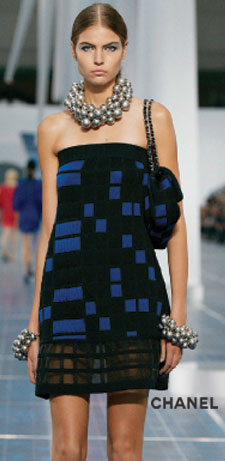 Leigh Lezark with short glossy straight, long side fringe and razor-cut ends that goes well with dresses in cubic patterns. She wore a strapless textured cotton knit dress in black and blue checkered pattern from Channel ready-to-wear spring 2013 collection.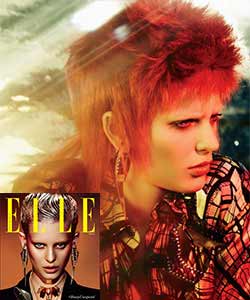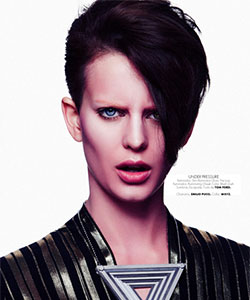 May 2013; London
Hairstyle and fashion inspiration of David Bowie's iconic look on cover of May 2013 edition of Elle Mexico. Hair by Tetsuya Yamakata, Makeup by Asami Taguchi Model: Swedish fashion model Ellinore Erichsen - Photographer: Takahiro Ogawa.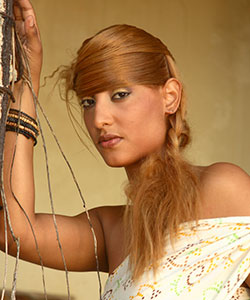 photography: Tom Carson
How do you get a fresh new look? By reviving a fashion classic with a romantic pedigree and giving it a modern twist... literally. Twist up your hair into one of the many new braiding hairstyles.
Read more...
Around the world

with short hair
Coloring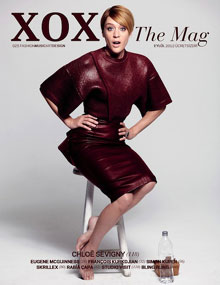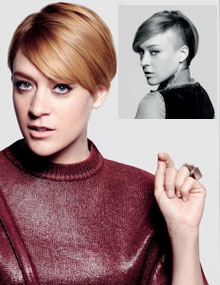 XOXO Fashion Magazine
Chloe Sevigny with her daring part shaved short hair and long fringe with strawberry blond on XOXO fashion Magazine cover.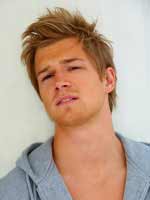 Many men want their hair to enhance their appearance and make a statement about who they are. So we asked Ivan Zoot what he thinks about latest hair styles for men these days.
Casual or Elegant

Messy Hair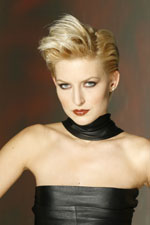 Style and Photography: Frances London DuBose
There is a hair style that will make you look sassy and hip. But the name of the style is a word people usually don't want associated with their hair: "messy".

Read more about messy hair style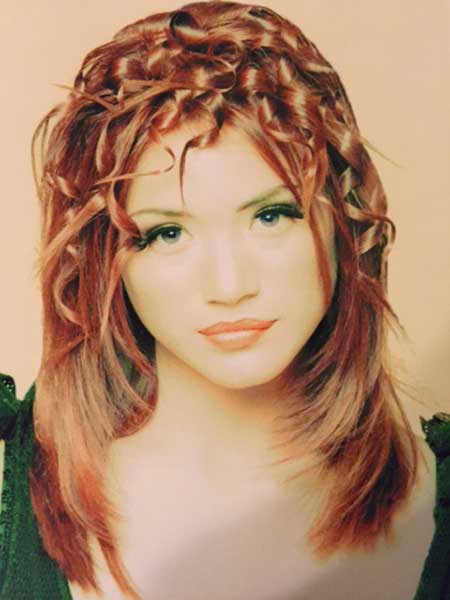 Style by Adam Shuman, Naked Hair Salon
Clients at NakedHair salon in Delray Bch Florida are crazy about the new curly hair patterns said Adam Shuman. Known for his exceptional dry cutting technique as "The Wizard", Adam's new technique in curly hair known as "COILY" has created a new wave of local trends in Delray Beach.