Seven Ways to Part Your Hair For a New Look
Want to change your hairstyle without drastically chopping your locks? Before you shell out major cash for a fresh style, consider modeling a new do with a simple variation on the way you part your hair. Though there is not necessarily a good or a bad way to part your hair, several mainstream options are easy to achieve and we are going to talk about them here.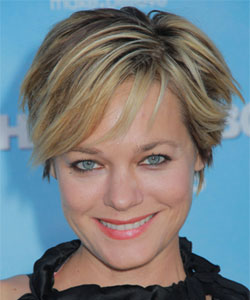 By: Kathryn M. - Photo:Izumi Hasegawa
What matters most is that you are comfortable and confident with the style you choose. If you cannot immediately decide on your preferred style, try the following, or get inspirations and make up your own!

How Many Ways
Parting your hair on your own is a cinch! If you aren't familiar with doing so but want to try a new look, first comb your hair as if you are going to throw it back into a ponytail. Then take a thin rat tail comb and trace a straight line along your scalp where your hair meets your forehead to the back of your head.
Separate the hair on either side of the new part and gently brush or comb it down until it lays smoothly. If you find difficulty with this, you may want to introduce a small dab of a non-sticky styling product to your hair to calm it down. Also, if your hair is very accustomed to a certain style, you may have to "train" it to respond to the new part by brushing in the desired direction and adding styling products when necessary.
The Four Deadly Parts
Here is a short video showing four different ways to part your hair:
Simple Center Part
The "7" Part
The "W" Part
The Simple Zig Zag - Useful to hide root in-between touch-ups and coloring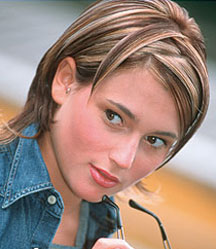 If you choose to have your stylist trim your mane for you, she should ask how you part your hair if she does not already know.

It is important to "cut with the part" to keep your hair even and natural looking.

Do The Center Part
A very common method of parting the hair involves the natural part, which runs right down the center of one's head.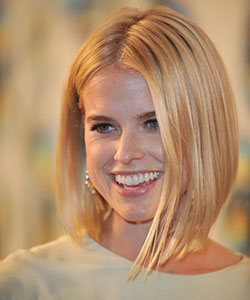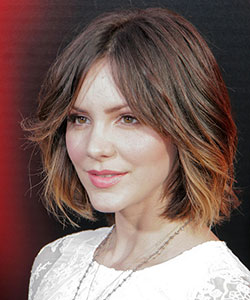 This style Certainly got its own appeal when coupled with the
right choice of hair length and texture
.
A great choice for those with mid-length or longer hair
. Can work with sleek straight, undone,
tousled and even wavy texture
. Suits mostly those with heart- or longer face shapes.
If this is your current style and you are ready for a change, try to form a new part a bit to the left or the right of your current part.
Four Different Side Parts
The secret to classic Hollywood glam styles on red carpet. This type of parting is great to break the symmetry of fuller and rounder face shapes and re-balance the overall look.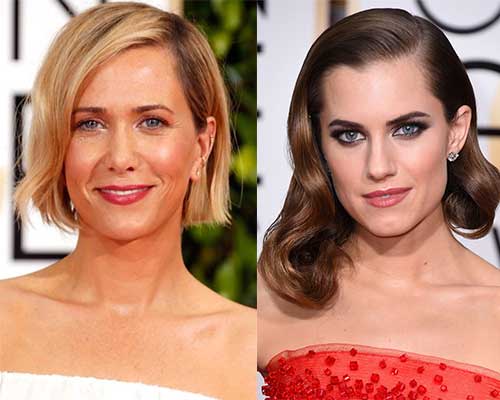 Golden Globe Event 2015
Deep side parting with soft, subtle and romantic Hollywood waves from Golden Globe.
You can either choose to do a soft side part with invisible line or a hard side part with visible line. You can also do a deep side part by parting the hair above the outer part of your eyebrow or make it a classic side part or off-centre side part by parting the hair above the inner part of your eyebrow and close to center. Each method and combination creates a different look and all you need to do is practice!.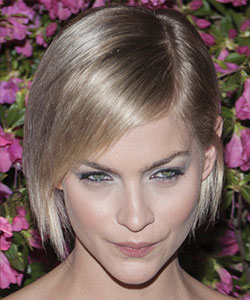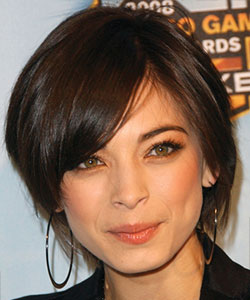 Difference between a
soft side part and hard side part
is the degree of visibility in line of separation.
A Chic Zigzag Part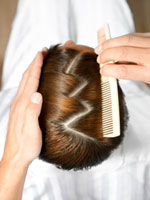 If you only want to change your look for a night, a chic zigzag part will stand you out from the crowd. Using your rat tail comb, simply trace the part back and forth from your forehead to the back of the head. Then separate the sections so that they lay evenly on either side of your head.
Though you already have a rat tail comb on hand, a handy, inexpensive tool makes the zigzag process a bit easier. The "Part Pizazz" is a tool with a point on one end and arms that swing open to separate the sections of hair when you are finished.

To design the zigzag you merely trace the desired pattern on your head as if using a pen or pencil and a sheet of paper. Hairagami(r) produces the "Part Pizazz."
Whether you are enjoying your new look indefinitely or just for a night, remember not to run your hands through your hair too much as it may disrupt the style. Be bold, be conservative-be YOU-have fun and make a statement.
Make sure you are confident in your new style as you sport it in public. Then bask in the glow of attention as those close to you notice something is just a bit different about you. Switching your part can make you feel fresh, energized and sexy. Enjoy it!
Some Suggestions for You