Fun with 7 Different Braided Hair styles
How do you get a fresh new look? By reviving a fashion classic with a romantic pedigree and giving it a modern twist... literally. Twist up your hair into one of the many new braiding hairstyles. There's a braid for every occasion, from casual to business to formal.
For inspiration, you need look no further than the braids worn by some well-known celebrities.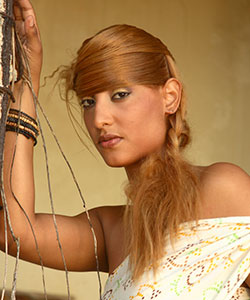 Courtesy of Jesse Briggs
Photography by Tom Carson
Stars like Jessica Alba, Kate Hudson, Kirsten Dunst, Nicole Richie, Nicole Kidman, Blake Lively, Adriana Karambeu and countless runway models have embraced the soft elegance of the side braid or partial braid.
No longer are you limited to the "pigtails" we used to wear as little girls (although that's still an option!) Anyone with medium length or long hair has a wide range of glamorous summer braid alternatives.
Mini on Side - Cute and Subtle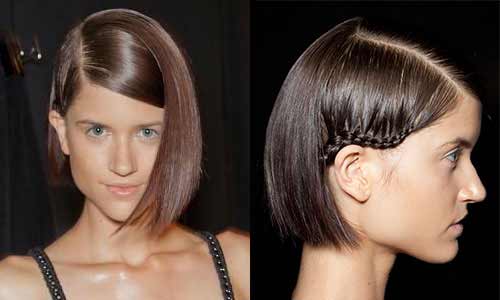 Runway model at backstage - Herve Leger Spring/Summer 2013
A short bob hair with a mini braid from side, started from hairline and continue over the ear and pinned to back.
French Braid Also Works on Short Hair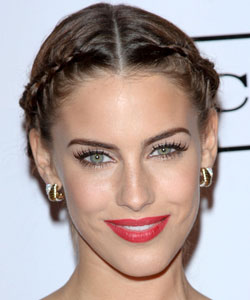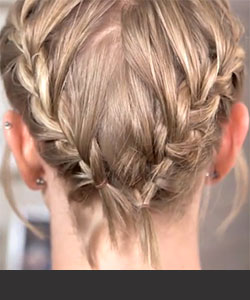 Left: Jessica Lowndes with simple narrow twist braid - Right: How to do a braid for short hair instruction video
This old-but-new braiding hair style gathers in strands of hair as the braid lengthens, holding it snugly to the scalp. The classic French braid pulls all the hair into a single braid at the back of the head. More popular these days is to make two or more partial braids at the front and draw them to the back, hiding the ends in a loose bun or ponytail.
Check out this video on how to create this look.
Got Extensions or Longer Hair? Go for an Easy Tail Braid
Your hair need to be at least 3 inches past your shoulder in order to make a statement with this type of braids. Prepare your hair with styling lotions. It helps, you secure the selected section that you like before you start braiding with an elastic band. You can remove the band once you finish.
Divide hair in half and hold each section in one hand. For easy braiding, just start crisscrossing the sections. If you goal is a fishtail braid then you need to take a piece of hair from outer side of each subsection and bring it into center while braiding. You can watch this easy to follow video for instructions. Secure the end with a clear elastic band and fix with a pin. Let some of the strands to stick out. It shouldn't be perfect!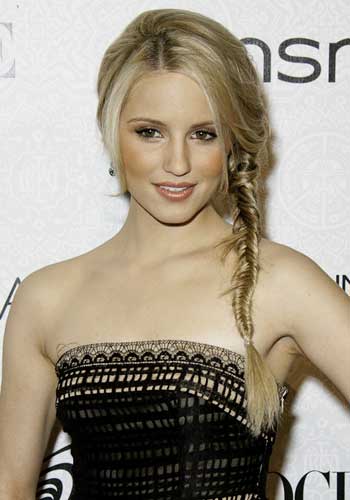 Photo Credit: Albert L. Ortega
Diana with elegant and fine fishtail braid - watch this video to create a similar effect
Photo Credit: Tina Gill
Blake Lively - Braided hair in messy style decorated with hair accessory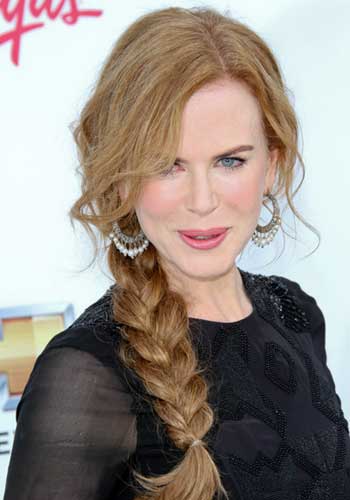 Photo Credit: Andrew Evans
Nicole Kidman with simple and effortless braid for casual look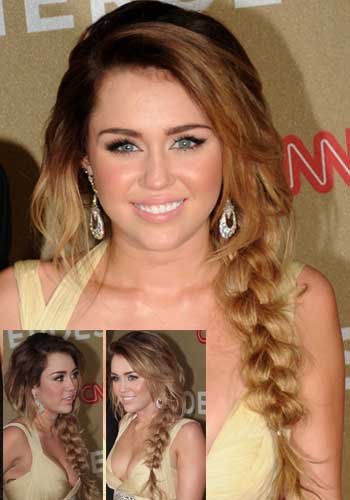 Photo Credit: Andrew Evans
Miley Cyrus with casual look and ombre colored hair in braid
Milkmaid Braid Look
This romantic throwback uses one or two side braids pulled over the top of the head to frame the face. It holds the rest of your hair, back much like a headband, while creating a classically feminine look. This uber trendy braid also works well with bangs. Braid the ponytail, add braid pieces or braid strands from sides. All works to create different and exciting looks. For short hair you might need to use a headband braid.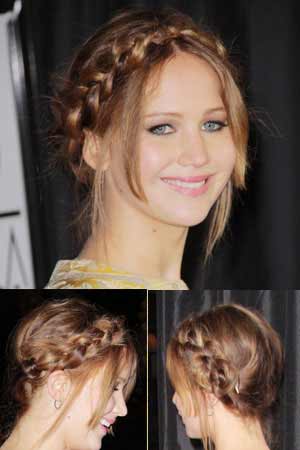 Photo Credit: Izumi Hasegawas
Poneytail braided into messy milkmaid braid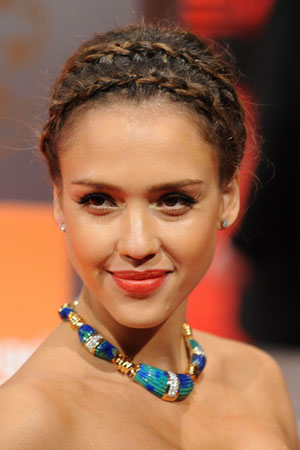 Photo Credit: Solarpix
Jessica with double mini braids from sides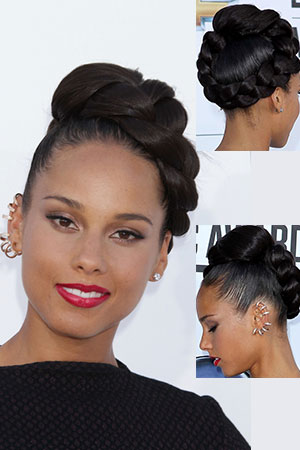 Photo Credit: Andrew Evans
Ponytail braided with extra human hairpiece
The Braided Bun / Chignon
This neo-Victorian look twists long hair into a single tight braid and then coils it at the back of the neck where it can be secured with a stick pin, chopsticks, or any decoration of your choosing.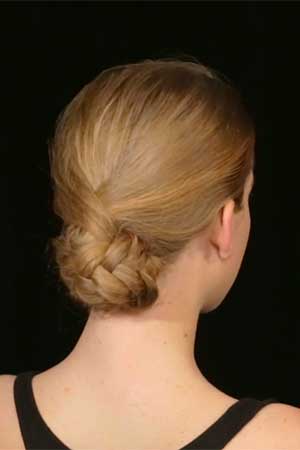 -
Fishtail pony braid into an updo at the back - Instruction video
The Adorned Braid
Your side braid or partial braid can be decorated with colourful ribbons, strips of leather, tiny hair jewels, or even flowers. It's a braid style that signals you're ready for some footloose fun in the sun.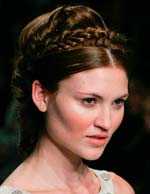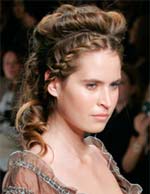 Some Braiding Tips
Flyaway ends are a common occurrence with braids, especially on fine hair. Don't try to make it perfect! Effortless and natural look is part of this style. However, you can get it under control: before braiding, mist each section with hairspray so ends stay under control while you complete your style. Then wrap the braid ends with a covered elastic and apply hair serum to protect them from damage.
Hair too short to braid? Consider a human hair extension or a clip-on in the same color as your hair. A less costly and easier-to-style alternative is a braided headband that lets you fake the milkmaid braid without a salon visit.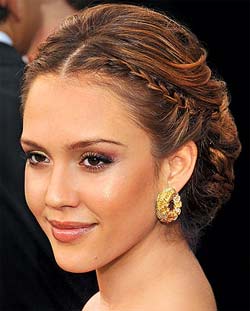 Whatever type of braid you choose, think of it as one component of your hairstyle. In other words, pair your braid with another feature such as a loose bun or ponytail, face-framing tendrils, long wavy hair, bangs, or hair accessories.
This blending of fashion motifs is what has reconfigured grandma's tidy, austere braid into what we see on the catwalks today. Have fun trying different braided styles to add texture and a "twist" to your holiday hairstyle.
Braiding For Kids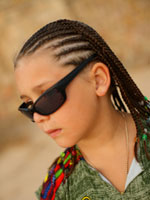 Braids and cornrows are quite popular among those fascinating fancy hairstyles. Weaving of three strands of hair together in intricate designs is nothing less than an artwork. Read more about Hair Braiding for Kids
Cornrowing With Hair Extensions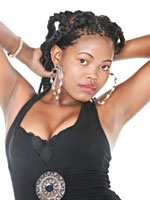 A common hair-styling technique that originally used as a way to manage kinky/wavy hair textures.

Now varying degrees of creativity have been injected into the original art form, including adding hair extensions to create individual fashion statement and it is almost as common to see cornrowed extensions as it is to see cornrows without.

Here is a step by step guide on how to use cornrow and braid with extensions.
The important thing is to pick a hairstyle that works for you, your hair type, and fits your personality and lifestyle. Extensions and braiding styles are a wonderful way to accomplish just that.
Hair Braiding Instructions
Dream weaver braiding provides step by step hair braiding instructions with pictures. Including three-strand, french and dutch braids.
Natural Hair Care Ideas
Here you can find great ideas for natural hair care including braiding and cornrow styles for those with African American and kinky hair types.
The Art of African Hair Style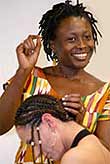 Hair braiding is an ancient art and here in Copenhagen, Barikisu Larsen show her students the art of african micro braiding, weaving, cornrows, twisting and curling.

As an African hair stylist, Barikisu also offers her hair gallery, consultancy, tips, tricks and good advice regarding new hair braiding styles and hair care in African way.

Home

›
Braiding Hair Styles