Finding the Right Hair Cut For You
A good hair cut has the right proportions and includes all the basic elements of balance, line and movement. The cut should be manageable and the hair should look great in its natural form even before it is styled.
How do You Find what Works Best for Your Face?
Choosing the right hair cut is part technique and part art and one helpful technique is to adapt certain haircuts to facial structure. Each face has its own unique structure. The shape of your face and head has a major role to play in the type of hair cut and style you can wear best. Use this guide to find hair cuts suitable for different face shapes.
View Your Photo With New Styles
For visual aid you can test a new hair style before getting the cut, by using virtual hair styling or imaging software.
It's the only "easy" way to try out a hair cut before the first snip is made! In older days we use to go into a wig shop and try different looks but today with all the technological advances you don't have to go to all that troubles. All you need is a portrait photo of yourself.
Narrow Down Your Choices

Finding a new haircut is not only about facial structure. It also depends on manageability. Take your hair texture into consideration. The shape and type of hair cut makes the difference between having an easy hair style and a style that becomes difficult to manage. Here is some few ideas on how to find easy hair styles.
Try not to mistake fineness for thinness and coarse for thickness. Hair fall differently with each texture. For example, fine hair might require layers but thick hair could get out of controls with too many layers - So narrow it down to those that works with your hair type.
Make Subtle Re-design
You like to stay with your current hair-length, but fancy something different? Go for a light re-design and not just a haircut! You can change the shape of your hair cut by adding texture and with just a little added hair color and few snips, you can morph your style to create something new.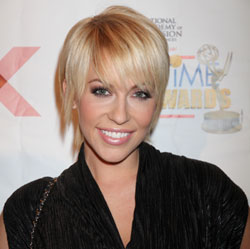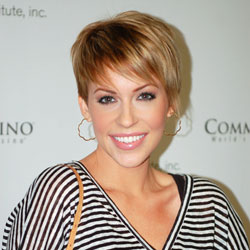 Transform and re-design your short hair from one style to another with few snips
Look Amazing at Any Age
There is no specific rules for age group. A good hairstyle for you is all about how good you feel! But there are some rules to follow:
If you are a teen or in 20s then it's all about having fun. You have the option to experiment with your style. Normally I don't advice you to go short but most girls in your age are wondering if short hair is great for school or not! – I would say, try anything you want.
If you are in your 30s then you should be confident enough to choose your style. If you have a busy lifestyle, you'll want a cut that requires minimum care. Usually, this means a shorter look. Certainly your profession dictates your choices but if you want it trendier, add length but also make certain you still have styling control and neatness.
When you are in your 40s and 50s sometimes commitments to career, home or/and family takes you away from your own needs. Never compromise on your own glamour but instead try to focus on practicality. Look for easy to wear hairstyles that look stylish. Look back in time when you were younger and embrace change!
You think you ready to cut your hair short? Use These Tips to Turn Heads