Find Your Next Style With Virtual Styler
Try it for FREE
If you are looking for new hair cut ideas and want to know how you'd look with a particular short hair style before actually getting the cut, you should consider using hair style makeover (also known as virtual hair style software).
Following Images produced to show different hair cut ideas using an online virtual hair style software: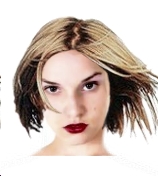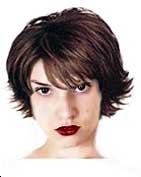 left to right - Cameron Diaz, Victoria Beckham, and Lisa Rinna's short hair on same hair model
Click Here To Register for Full Membership - Full access by FREE membership. Below is a limited demo version. (To view this demo and use the service you need Adobe Flash. You won't be able to use this demo with some smart phones or tablets like iPhone or iPad - Not Yet!)
The concept of using a computer to get a new hair style idea and play "what if" with your appearance isn't really new. Cutting-edge salons had the capability in the early 90s, and a few companies came out with desktop software versions a few years later. Today there are are plenty of Apps on mobile that offering a similar service for free but most of them are like games for kids rather than tools for finding a hairstyle and none of them yet offering such realistic effect as this one.
Virtual hair style software is one of the most exciting services provided by beauty industry. These programs will accelerate your decision process and provide you with lots of hair cut ideas. To get started and see how it works: Click on "Select" button above.

A Perfect Tool to Try any Hair Style or Color
This online version of virtual hair style software is designed for ease of use and no special computer experience is needed to master it.
With online version you and your friends can log into to a virtual hair style from any computer that's connected to the Internet. It comes with hundreds of ready-to-use styles like hair style for curly hair, hair style for short hair, hair style for long hair, layered hair styles, bob hair styles, bang hair style and in just as many colors.
You can easy start experimenting all type of hair styles with couple of mouse click using your own digital photo as model. You can change your hair style and experiment with color variations without any risk!.
How it Works and What to Expect
All you need to get started (besides the Internet-connected computer, of course) is a digital photograph of yourself. A standard "head shot" works best. Then you simply upload the image and poof -- there you are staring back at yourself in living color. Then you just start clicking your way through hair styles until you find the right one for you. Simply print out your selection and take it to your favorite hair stylist. It doesn't get any better than this.
Should You Use It?
In short, there are very few reasons why one would not want to use a virtual hair style makeover program. Its a fun and pain free way of viewing your own picture with different hair styles and colors. But Basically, you should use it if you want to change your current length, style and color. Small changes like strands of highlight or creative coloring will not really work. For these type of changes, you need a more advanced version of "Color Imaging" software which is only available is certain hair salons.
Using virtual hair style software has been a time saving and rewarding experience for many of my own clients. I must admit that these type of tools can be very entertaining and provide you with some new hair cut ideas.