Want to Try a New Funky or Vivid Hair Color?
Creative hair coloring is a great choice if you feel funky and like to experiment a new look. The color is used to enhance your personality, complement your hair cut and making it unique to you. Don't be afraid to experiment, but choose a trusted stylist for this kind of work. Get inspired with dramatic and daring vivid hair colors.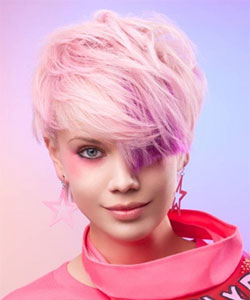 By Elite team of Intercoiffure Mondial
Master hair stylists love to get their hands on clients that willing to be a hair model for short hair and funky coloring. They simply love to cut your hair short and color it wild! So look for salons or talented stylists that exercise this art.
Cut and color goes hand in hand. Certain colors looks better on certain cuts
There are two ways to apply these bold fun shades: whole head application or just portions. The "go big or go home" approach gives you a neo-punk look that can attract both leers and sneers
But if you're a bit more reserved or (ahem) mature, then adding just a splash of brilliant color is a great way to put some fun in your style without scaring the kids! Here some "Bright" Ideas:
Semi-Brave
If you're happy with your base color and just want to spice things up a bit, try adding a block or streaks of bright color on one section of hair only.
You can just choose to color underneath layers of your bangs and make a peek-a-boo effect. This way the effect is less obvious and you don't have to worry about root re-growth. Just don't over-do it and break the symmetry of your style (Do not place two streaks in opposite sides).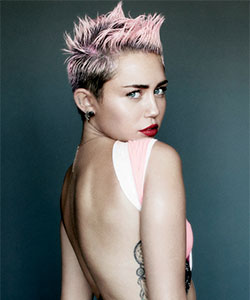 Just have fun with it. You can also go for dip-dyeing effect where just ends of your hair are colored with contrasting colors.
Drama Queen
Think of jet black all over with blocks of contrasting color, maybe the bangs or side sections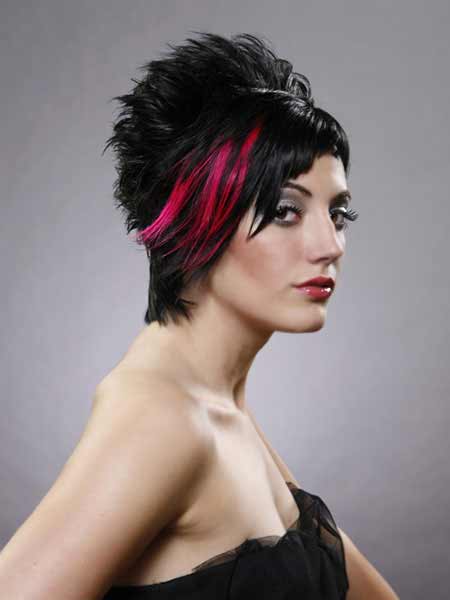 Style By: Danielle Jo Victory-Franceschelli
The black will showcase almost any bright color you choose beautifully. Suitable for skin tone like magnolia white, light to dark olive and black skin tones.

Brave with Whole Head
Fans of un-natural hair colors often choose neon or pastel hues like fuchsia, lime green, electric blue, purple, orange or color combos. Pastel and washed out colors like lilac, baby blue and pastel pink are all in trend these days.
Photo: community share via nvision
Be careful when going bright all over. First, know if your skin tone is warm or cool. That will suggest color choices that enhance your look rather than wash you out. Get your colorist's advice or ask our forum members. A full head not necessarily mean one color (block coloring). You can get full head of highlights in any color.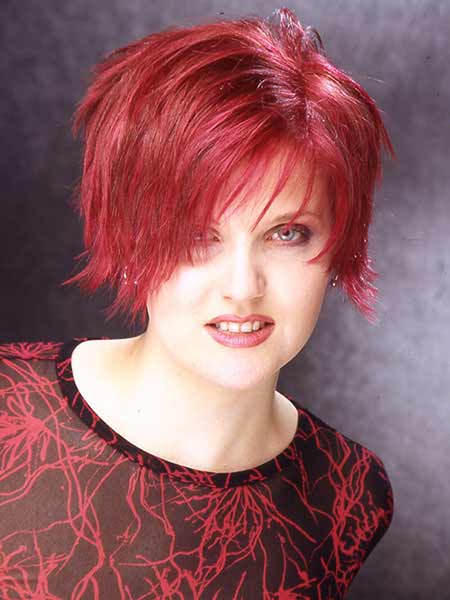 Style By: London DuBose
To get the best result you need to bleach hair to lightest blonde before adding bright tones. Color pigments will fade after 2 weeks, so be prepare for high maintanance!
Subtle and Sweet
If you aren't ready for a full head of color, think temporary hair color highlights or lowlights. Your own shade is still there with a light wash of color that just stains the hair and gives it a gentle shimmer of color.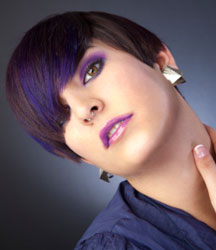 For short hair in messy and textured style check option of a tonal blast with semi-permanent for extra brightness and tonality.
Color Splicing
For this look, multiple colors are applied all over in chunky strands. It can look classy or outrageous, depending on the colors used.
Ombre is Creative
Gradual coloring technique for longer hair and dip-dye color effect for short hair and even hair painting and balayage can be used to achive all variations of looks. All you have to do is to decide the color(s), type of transition (ex. fading gradually, muted, seamless or blunt line) and the length of so called ombre.
There are no specific rules or guidelines and perhaps that is the reason for its popularity - make your own singnature and then its yours.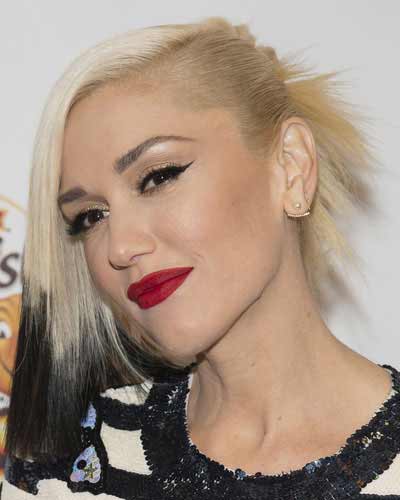 To decide the best length for your ombre use the Golden ratio (1:1.62) as guideline. For example if your hair is 10 inch long - keep 3.8 inch in one color and 6.2 inch in another. This makes the overall look more appealing to eyes.
Light on Top, Dark Underneath
This is a fabulous look especially for longer hair or extension. You can try a lighter color, say pink, on the top layers of your hair from the roots down and a darker color like burgundy in the lengths underneath. As the hair moves, a dramatic effect is created.
Let's face it... part of the reason we're attracted to funky hair colors is because it's slightly risky. Not as dangerous as base jumping or texting while driving but still daring!
This type of coloring can have a big impact on your lifestyle and your new look may not be appreciated if you work in an office. Consider how much upkeep you can live with, and make sure you have the time and the budget to maintain your new style.
Creative Coloring as Art
Eye-catching effects with sharp contrasting hair colors between black, platinum smoky blond and violet. The finish hair style is a combination of polished and raw design with both graphical cut and deliberately broken asymmetrical shapes with structured volume.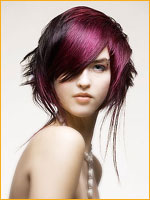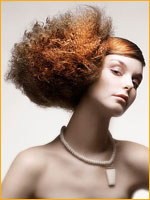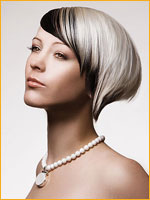 Presented by Canadian hairdresser of the year winner & NAHA finalist Edwin Johnston
Photo: Babak.ca
Who Makes Creative Color Shades
Hair Spray
Temporary and easy to use hair color spray that comes in three exciting colors of pink, purple and blue.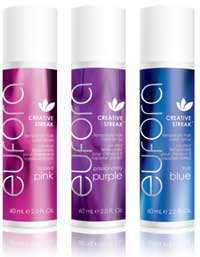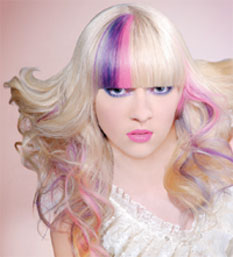 Made from botanical extracts that won't stain. Great for adding streaks, making patterns or even spray bottom layers of your hair for a peek-a-boo effect. Unfortunately only available through salon professionals in US and Canada. Shampoos out easily!
Bumble & Bumble also offering a limited edition of four exciting shades of temporary hair spray that washout in one application and it's called Spray Chalk.
For those who don't like working with chalk hair colors and looking for alternative to other brands, this is a great choice. It comes in four exciting shades of red blush, lavender, mint green and cobalt blue. Available in all salon professionals offering Bumble & Bumble line worldwide.
Rub it in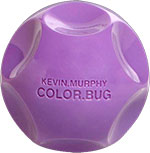 Color.Bug is another great alternative that can be purchased online almost anywhere. You can't get more temporary than this. Just like your makeup this is a wipe on and wipe off application that last for one night and available in Pink, Purple and Orange. You use this product just like your styling products. Just place a towel around your shoulder to protect your clothes, when hair is dry apply your usual styling products then apply Color.Bug and finally add a mist of hair spray to lock the color in and make it stick for the night. Next time you wash, it will be gone.
If your hair is bleached blonde, over-processed, dry or damaged you should either avoid using it or do a strand test on small section.
Long Lasting Semi Permanent Choices
Pravana provides a collection of ten different vibrant and fun colors. But what's exciting is that they recently added a series of pastel colors into their collection.
These colors are true semi-permanent colors and designed for long lasting applications and can be combined with normal hair colors to create creative color effects. Available through salon professionals in US. www.pravana.com/
La Riché Directions
Looking for a specific shade that not offered by other brands? check out La Riché Directions. Their colors comes with more than 30 vibrant shades including poppy and rose red, lagoon and dark midnight blue, apricot, apple green, fluorescent, turquoise, daffodil yellow, flamingo pink, lilac, violet, plum and more.

These semi permanent colors can be mixed to create new shades. Available through salon professionals.http://www.lariche.co.uk/

Some Creative Ideas