Tempted by a RED Hair Color?
Find Your Options
How many natural redhead celebrities can you name? We mean really natural, not dyed. Lindsay Lohan, Nicole Kidman, Prince Harry, Reba McIntyre, snowboarder Shaun White (the Flying Tomato), and... uh... The Little Mermaid? Hmmmm, not that many.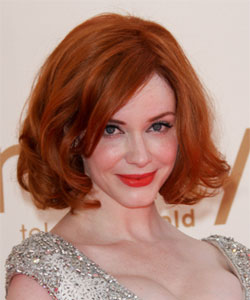 Natural redheads are a rare and wonderful thing. They always look good in their vibrant hair because they were born with the right skin coloration to go with it.
So if you want to change to a red hair color and have it look natural, the secret is choosing your shade with extreme care. And before you consider coloring your hair red make sure your hair is in good condition. Red hair fade faster than other colors and with damaged hair, your final color results in patchy and dull look.

Make a Personality Check
Remember, red hair color is the brightest color of all. It makes a bold statement and attracts attention. If you're the shy type, red might help bring you out of your shell or it might make you feel unnatural and self-conscious. Redheads look daring and give impression on a vibrant personality.

Most redheads are brave and confident. So consider your personality before making the leap.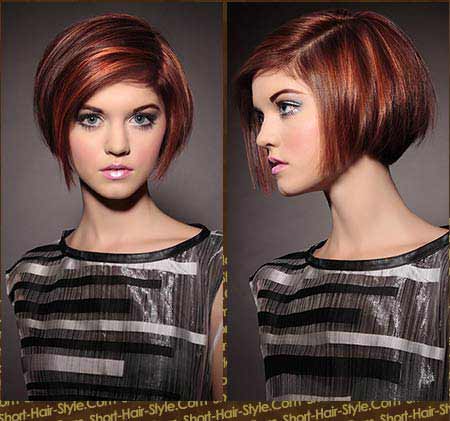 Style and color by Douglas Carroll Salon
You already got auburn hair color and looking for a way to update your look? Take a look at this fantastic multi-dimensional red highlight over this amazing
face framing bob haircut
. Presented as hairstyle of the week on globalhairandfashiongroup.com.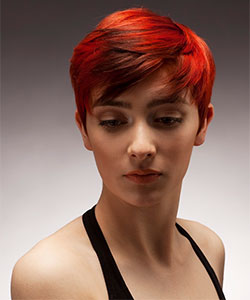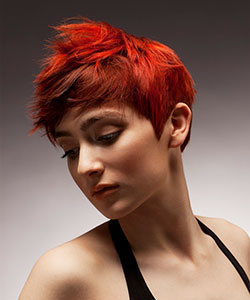 Style and color by Philosophy Salons Team
We selected this beautiful style from Philosophy hairdressing in UK with three salons located in Oxford, Abingdon and Witney. The vibrant orange red on top and a peek-a-boo effect of earthly brown on lower layers and fringe is just like looking at blushing red leaves right before they kiss the earth.
What Red Works for You?
Here's an easy way to tell. Look at the veins in your wrists. If they're green, your skin tone is likely warm. If they're blue, you're cool. If you tan easily, you're a warm; if you tend to burn, your skin is cool. So now you can select a red hair color that complements your skin and really flatters you. You can use this table to dig deeper into your best choices:
Warm

and clear with light beige, hint of yellow undertone (Spring type) - Ex. Pale or Golden ivory, Peachy, Freckles, Cream peachy, Beige, Warm light brown
Strawberry blonde, Light warm red and soft, Red golden blond, Golden orange blonde

Warm

with gold or orange undertone (Autumn type) - Ex. Peachy, Gold beige, Bronze, Reddish, Coffe with milk
All red with golden tone, golden orange tones, copper, ginger, henna red - Go ahead with a carrot top!

Cool

, pale with blue undertone - (Summer type) - Bluish pink, pink, rose beige, rose brown
All soft and muted red with blue or violet, auburn highlight

Cool

, milky white, White with no under tone (Neutral) OR olive with blue undertone OR Dark - (Winetr type)
All intense rich red mixed with blue violet, plum, blueberry, red violet.
Some Words of Causion
It's Orange! Uh oh, not what you wanted. The safest way to go red from any other color is to have it done professionally at the salon. It's just too easy to get a "code red" disaster when you do it yourself.



Safe Solution. Consider red highlights instead of all-over color. Your stylist can apply up to 5 different shades of red to give you that natural, sun-dappled look without the "OMG, you've got red hair!" shock factor.


If you still have questions, read other people's questions and answers about going red. Or add your own. Did you come up with an exciting new shade of red hair color? Share your hair color photos.
Related Readings: