Hair Coloring from Blonde to Red Copper?
Blond
I would like to go red but am afraid that it will wash out orange. I like the deep copper color with blue in it. How do I keep the color from fading and washing out? I have fair freckled skin. Hazel/Brown eyes.


---
Red Copper is a nice choice!
by: N.F.

Deep red copper will suits you fine and if done by salon professional, you should be less worry about the orange washout color afterwards. Most of the red color pigments are normally sits on the hair and not easily absorbed into the hair cortex. Every time you wash your hair, those color pigments will start to fade away and your hair color loose its vibrancy. Salon professional colors are more intense and stay longer on hair than home kit colors.
However, deep and intense tones like red and brunettes are always hard to keep and you won't be able to stop the fade-away. You can reduce this by using color boosters, color refresher and color protected shampoos and conditioners formulated for red hair or at least get those products that are for color treated hair. Also avoid sun and don't wash your hair in first 48 hours after coloring and avoid clarifying and volumizing shampoos.
But don't let this stop you from what you want. I say go for it.
Hair Coloring from Blonde to Reddish Brown?
I had my hair dyed blonde for sometime now and I want a change. I want to go darker. So my question is what would be the best color to use to go dark? I don't want to go dark brown or black but maybe a reddish brown or an auburn color. Any suggestions? Also would it be ok to dye my hair at home with a reddish brown color than go to the salon?


---
pro advice
by: rtstxtrdnr

If you are going to do it at home , use a shade lighter - light warm or red brown. You will get a medium warm (red) brown. Follow the instructions in the box, start at the back and work to the crown and sides then the top. Do not put on the ends until the last 5-10 min. Wet the hair and suds the color and rinse well.. make sure the scalp is rinsed well . Towel dry gently and apply conditioner to the ends and put a cap over it and leave 30 min. Rinse with tepid or cool water.
Click here to answer or post comments
Join in and write your own blog page! It's easy to do. How? Simply click here to return to Red Hair Colors.
Want to change my hair colour to red
by lynda
(leeds united kingdon)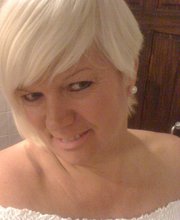 Want to go red, but can only use PPD free hair dyes. I want to know if it would suit me , or what colour would suit me best?
Dying my medium ash blonde hair red?
by Sarah
(england)
I have dyed my hair many times before but have never dyed it red. I have put very light blonde hair dyes on my hair many times but a day before new year i put a medium ash blonde hair dye on my hair and haven't put a dye on since then. Now i want to go red, could i go red?
Any advice please.
Bleached Highlights - What Would Happen If I Went Red??
by Hannah
(manchester)
A few months ago i had my brown hair highlighted with bleach but only a low factor so now i have dark brown tips and roots but blonde highlights at the top of my hair in between my roots and tips!!

Wanted to dye hair red now but wondering which red to go for and how it will turn out!!