Red hair color like celebrity Debra Messing
by Ammy
(Washington, US)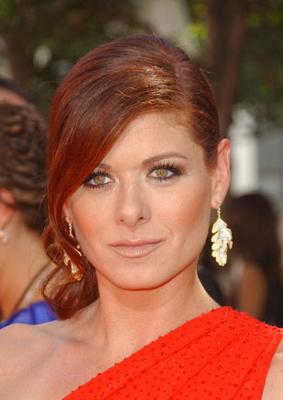 Debra Messing - 61st Annual Primetime Emmy Awards
I like to color my hair red just like Debra Messing when she appeared in 61st Emmy's. Currently I have medium brown hair and my skin tone is pale just like her, so I think I might pull this off without problem. I never colored my hair red before, so what hair color should I ask when I visit my hairdresser? Or can I color this at home? And do I need specific care for red hair? - I heard red hair are difficult to keep! Is that true? I like to do my homework before making a drastic change. Thanks in advance for answering my questions.
/Ammy

Red Head to be
By: Flo Briggs

Your idea is good. You should be a red head at least once in your life, most definitely you should have it done professionally by a "GOOD" hair-colorist. If your hair is a medium brown now, the colorist may have to remove some of that color first before applying red.
Remember to take Debra's pictures to your hair colorist, so he/she can see the exact shade of the color that your looking for.
To maintain the red color, you will need a "Color Shampoo". Ask your colorist which one they recommend for your specific red color and application they use. Don't be afraid of change, some times a GOOD CHANGE can change your life!