Ready for a New Haircut? - Use These Tips to Turn Heads
Are you ready for a new haircut? Go for it! No one stops you on the street to tell you what a wonderful "trim" you had so take the plunge and use these tips so you turn heads and not stomachs!

Style By: Tony Anders, Photo: Tom Carson - Makeup: Betty McKennon
Once you commit to going short – do your homework! There are many interpretations of short hair from "boyish crops", to soft textured layers. Find the elements of what pleases you. Make sure that the person you choose to remove your length has a flair for the shorter looks. Making short hair work appropriately is a balance of shape, texture, products, and respect for fabric. Make sure you and your stylist are on the same page.
Commitment to maintenance
Short hair not only requires more trips to the salon to maintain the look, but also may require more work or different skills than you are used to. Short hair is not a license to always go care-free. Often it may take more work to bring short styles to life.
Photos: Courtesy of Tony Anders
Consider your fabric
Since you are removing hair as well as bulk, you must determine if the desired end result will be complimentary to your hairs' fabric. Like clothing, a skirt made of wool, and a skirt made of silk will have a different drape and flow, so make sure the two elements blend for your style.
Photos: Courtesy of Tony Anders
The beauty of short hair is you can tweak the shape to enhance or distract from certain features. However, since you now have less hair to deal with, consider what you want to bring to the forefront and what you want to diminish when determining your chosen face shape, and make sure you have enough hair left to achieve your goal!
Feeling of the cut
Once your hair is short, styling products can become your best friend as it will allow you to change the "feeling" of the cut. From dramatic sleek looks by slicking your hair back, to adding waxes or pastes to create the "funk-factor", lesser lengths free up your creativity to achieve a variety of moods.
Compliment with color
Strategic placement of interesting hair color effects can add even more dramatic response to your crop. Multi-dimensional color tricks, balayage, or foils will give your hair interest and excitement.
Compliment with texture
Once heavy or lifeless hair may now respond better to texturizing chemicals and hot tools. Also where in the past texturizing from cutting tools may have been treacherous, may now be your lifesaver. Spot perms in the crown may add lift, or a quick twist of a curling iron, may help you tackle some of Mother Nature's greatest challenges.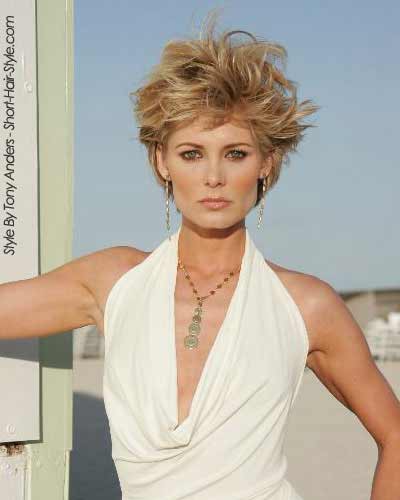 Photos: Courtesy of Tony Anders
Don't be afraid to take baby steps
If you have not had short hair in a while or at all, it may take getting used to. Do not feel you have to shear it all off in one sitting. You may benefit from going from collar bone, to mid neck, to jaw line, to a crop in successive visits. No need to commit all at once as the journey of finding the perfect short cut may be just as fun!
Take a lap through the mall
If you are new to short hair and have recently shorten your locks, your longer hair is no longer hiding your face. Makeup and jewelry can really tie the whole picture together.

Compliment your look with the right amount of makeup as short hair becomes a more pertinent part of your face rather than an adornment thereof.

Complimenting your look with makeup and earrings makes your short hair a statement of sexy confidence, rather than one of convenience.

Related