Short Crop in Brunette with Copper highlights
An attractive short crop hairstyle with heavy side bangs enhanced with attention grabbing rich brunette hair color and gold copper highlights.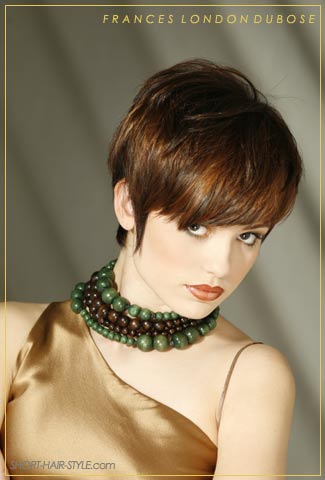 Style: Frances London Dubose, London Hair, Mount Pleasant, SC, USA
This razor haircut combined with precision cutting is a good choice for those with strong, thick or normal hair types. It allows plenty of movement and texture and you can work your style no matter what time of day. Flattering for multiple face shapes including round faces. It's a perfect choice for sporty, fashionable women who like to wear sexy but subtle makeup. Wear it sleek for special occasionsor or slightly tousle for casual look. For evening style, use styling gel to crate an on-trend look with sharp separation on few random strands around sides and bangs.