One Haircut that Styles in Three Edgy Looks
What does a girl do if she loves the convenience and fun of short hair but craves a bit of length for softness and drama? She chooses this cut, which delivers both long and short and can be styled at least three different ways to suit the occasion.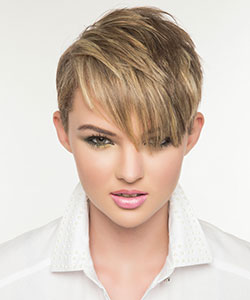 Hair by Frances DuBose and Stephanie DuBose for London Hair, Mt. Pleasant, SC. Makeup Betty Mekonnen. Photo by Tom Carson
Frances Dubose from London Hair Inc of Mount Pleasant, SC, created the look by leaving length in the front that can be brushed forward for casual wear, pulled up at the hairline for evening glamour, or textured into a nonchalant half up, half down style.
The sides are cut very close to the head and the back is tapered near to the nape. This keeps it all sleek and low maintenance so you can focus on style variations to the longer hair.
The cut works best with straight hair. And because of its versatility, it suits virtually every face shape. The stylist chose to add blonde highlights to the longer strands and leave the sides and back their natural shade to create contrast and definition.
The Casual Look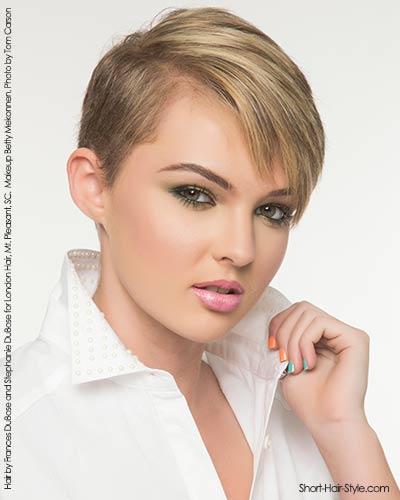 Easy and fast enough for everyday but cute enough for date night! With just a little sculpting lotion as a styling aid, the hair was brushed forward and twizzled into piecy bangs.
The Half Up, Half Down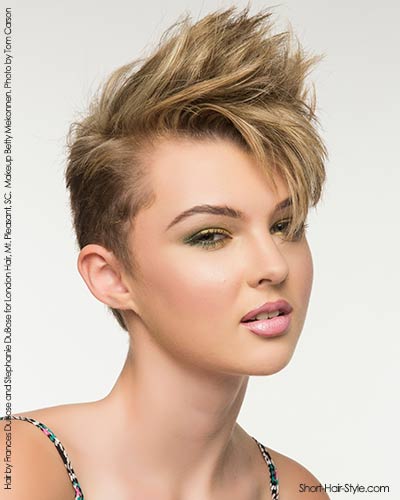 To get more lift and texture, the stylist used a pomade to coax portions of hair up and pull others down, giving the style staying power and more well-defined pieces. The secret is in choosing the right product to put your hair in motion.
The Quiff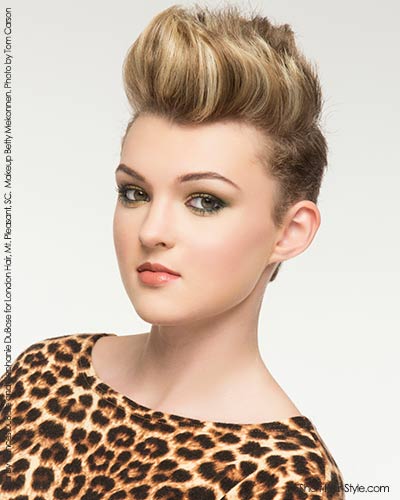 This updo really shows off your highlights and your daring side. The front hair has been flat ironed to create height and sprayed to keep it up there. Guaranteed to turn heads and inspire copycats!
One haircut, three styles that take you from beach to work to nightclub and beyond. The super short sides and back give you freedom. The length in front challenges you to come up with your own styling ideas beyond these three.

So, what will you do with the long and short of it?
Some Suggestions for You