Miley Cyrus - From Pixie to Mohawk
While Miley Cyrus has always been beautiful and a big star, it really wasn't until she debuted a bold, cropped, peroxide-blonde hairstyle in August 2012 that she hit the spotlight.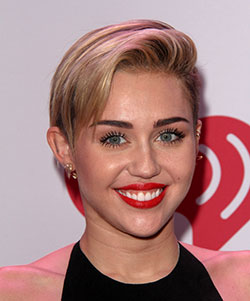 Photo: Andrew Evans
The Haircut
Celebrity stylist Chris McMillan was the one who gave Miley her stylish cut. If you've heard the name before, it's because he also tends to the hairstyles of Jennifer Aniston, Reese Witherspoon, Michelle Williams and Anne Hathaway. Will that makes McMillan a celebrity magnet or short hair specialist? Perhaps both!

Miley's haircut has seen several transformations and more than a few dye jobs since the initial cut, which was a pixie cut. First popularized by Audrey Hepburn in the movie Roman Holiday, the pixie cut is short on the sides and back, yet left slightly longer on the top and front.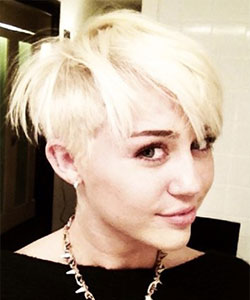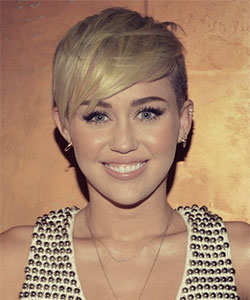 Miley Cyrus first haircut as pixie do when she first tweeted her photo in 2012 and later to a side shaved mohawk and pompadour hairstyle
Later Miley's hair was transformed into a Mohawk, which is shaved in the back and on the sides, yet left with longer, straight pieces brushed toward the front or crown. Today she control her look by growing her sides or removing hair from the top – moving her style in between mohawk and pompadour style. She created Eye-skimming bangs that give flirty mystery also are a trademark.
Style Variations and Colors
Since her initial cut, Miley has shown just how versatile a short haircut of this kind can be. For the Metropolitan Museum's annual ball, Miley fit in perfectly with the "punk" theme when she wore her hair spiked up in every direction using strong-hold gel or molding paste like KMS California's Hair Play Molding Paste. Miley's also been seen rocking a pompadour hairstyle, which shows off the shorter sides of her 'do. Similar to quiff examples here but with shorter sides and larger top!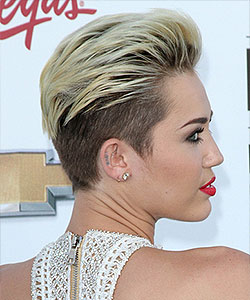 Miley's look in May 2013 (left/top) with bleached blonde on top and darker side for contrasting look and her overall silver color (bottom/right) with Mohawk haircut and shaved sides
Miley told Us magazine that she shaves the sides of her hair once per week to keep her haircut up: "The messier it is, the better is looks," she says. She said she loves her short hair so much that the public will "never see me with long hair again," she says.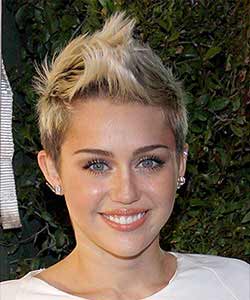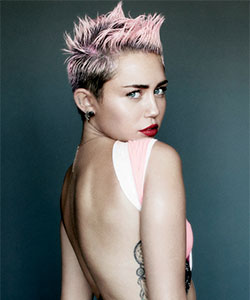 Miley's look from February 2013 and her pink punky do published on vmagazine.com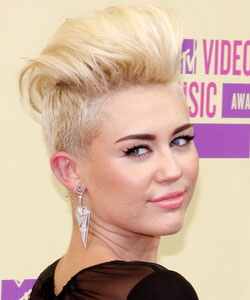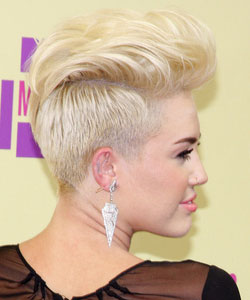 Miley Cyrus rocking her pompadour hairstyle and shows off the shorter sides of her 'do
Styling Tips
To achieve this hair-raising effect, you'll need a medium-sized round brush (about 1.5 inches should do) and a strong-hold hairspray. I'm a big fan of Suave's Hair Spray with Extra Hold, which is a great price at under $3. Of course, there's also L'Oreal Elnett Strong Hold Hairspray, which delivers a fine mist-like stream. Snap on your hair dryer's nozzle attachment and blow dry your hair backwards and up, as if your hair is blowing in the wind of your convertible. If you're having a hard time achieving Miley's height, you may need to set your hair on some jumbo-sized Velcro rollers for 10 to 15 minutes at a time.