Get Short Choppy Hair Like Ginnifer
Once Upon a Time's Ginnifer Goodwin has the flawless porcelain skin and features that make her the perfect fit for a short hairstyle. Never one to fear experimenting with her hairstyle, Ginnifer has gone from short to long and back again, but this look is among one of her best jagged, edgy styles.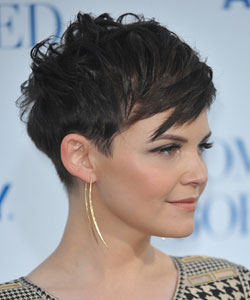 Ginnifer Goodwin - Short Choppy Layers. Photographer: Richard Shotwell
Getting the Haircut
Ginnifer's hairstylist Anh Co Tran told InStyle magazine about crafting Ginnifer's covetable hairstyle: "The bottom is buzzed super short, but we've been letting it grow out on top -- that length is what makes it such as versatile cut."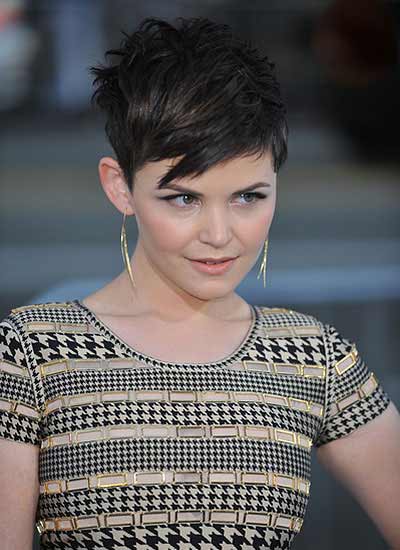 Photographer: Richard Shotwell
The hairstyle is something of a side-parted pixie that has an added edge thanks to an uneven hair part. This hairstyle is for you if you love the idea of short hair, but are concerned about styling options. Ginnifer wears hers differently by slicking it back, applying a thick pomade to show off the choppy layers, creates fingers waves or even curls the top.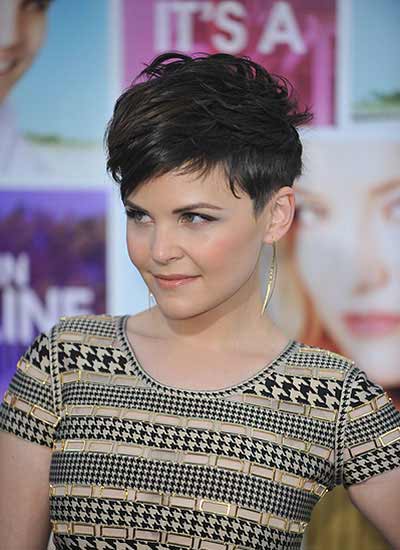 Photographer: Richard Shotwell
How to Style it?
To achieve Ginnifer's volume, blow-dry your hair with a medium-sized round brush using a hair dryer that has a slanted concentrator. Position the round brush up under your hair's roots and aim the hair dryer at your roots, pulling your hair away from your head. Twist your wrist just before your reach the end of your hair with your brush to create a curled-under appearance.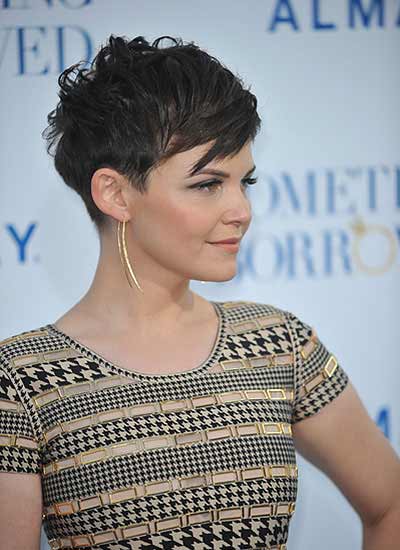 Photographer: Richard Shotwell
For style control, you can apply a molding paste, such as KMS California Hair Play Molding Paste or TIGI Bed Head Manipulator. Put some on your fingers and work through your hair, turning it every which way. The messier it is, the more Ginnifer-inspired it looks!
Let's Makeup and Get the Look
Ginnifer's look in above photo is dewy skin with heavily lined eyes and a clean, nude lip. To create the dewy appearance, start with an illuminating base or makeup primer. A personal fave is Chanel Base Lumiere Illuminating Makeup Base. A slightly lower-cost option is Physicians Formula Youthful Wear Youth-Boosting Illuminating Foundation. Apply to the entire face, concentrating especially on the cheekbones and the undereye area.
A peachy blush is the next must-have to achieve this look. Sweep on LORAC Blush in Peach or DuWop's Keep Blushing Blush in Peach starting at the apple or most prominent portion of your cheekbones and sweeping backward and upward toward your ear.
To get the eye look, apply a neutral shadow or eyeshadow base to your eyelids, such as Urban Decay's Eyeshadow Primer Potion . Line your upper lids only with a black eyeshadow pencil and smudge using a black or navy eyeshadow. Too Faced has an awesome "Smokey Eye Shadow Collection" palette that can help you achieve the look. Finish with two coats of black mascara, such as L'Oreal's Original Voluminous Mascara .
The finishing touch? A light pink or nude lip gloss. I love Victoria's Secret's lip glosses because they are long-lasting, have a great scent and come in a variety of colors. To match Ginnifer's look, try the company's Shiny Kiss Flavored Gloss in Barely Pink .