Makeup Primers: A Fast Fix to Flawless Makeup
With all the products lining cosmetic counters, it's easy to get bogged down in your beauty routine. From foundations to concealers to highlighters to powders, there are a lot of options for perfecting your face.
Before you ever put an ounce of makeup on your skin, consider putting on a makeup primer. These beauty tools create a flawless face and extend the life of your makeup. You may even find you don't need foundation at all.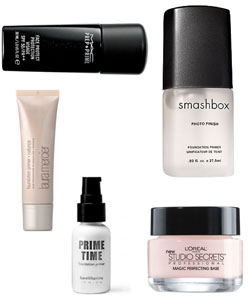 By: Rachel Nall
Makeup primers are fairly new to the beauty scene. They were once the secret of Hollywood makeup artists who would use them to extend the life of a star's makeup and give off a just-airbrushed look while shooting under hot lights, according to "Harper's Bazaar" magazine. However, primers are now available at most department and drugstores. These beauty tools contain ingredients such as silicone, green tea, grapeseed and hyaluronic acid that create a glue-like barrier between your skin and makeup.

Additionally, primers absorb oil, which can cut reduce oily, shiny skin throughout the day. Today's primers can also be color-corrective, meaning they come in tints such as green to reduce skin redness, lavender to cut down yellow skin tones or peach to camouflage dark circles.
How to Apply
Makeup primers fit into your beauty routine somewhere between applying your moisturizer and putting on your foundation, powder or tinted moisturizer. Start with a pea-size amount applied using a clean finger. Apply to the same places you would apply foundation, including your forehead, nose, cheeks and chin. Putting primer on your eyelids also can help your eye shadow last longer. Wait a two to three minutes between primer application and your next makeup application to allow your primer to set.
You may find you can sweep on a light loose or pressed powder following a makeup primer application. If you desire greater makeup coverage, you can apply your go-to liquid foundation.
Choosing the Right Primer for You
The beauty market features a number of primers that range in cost. The key to selecting one for you is to first consider your beauty woes. Do you need color-correcting, skin brightening, moisturizing, shine-minimizing or sun protecting? There's a primer for each of these skin concerns. The next step is to sample your primer. The best one for you should disappear seamlessly into your skin and blend well with your makeup. Primers that feel chunky, heavy or cause your makeup to spread unevenly are not for you. However, if you find a primer that feels lightweight and makes your skin look flawless, you have found a winner.
My Personal Favorites:

L'Oreal Studio Secrets Magic Perfecting Base - This drugstore-brand primer has a soufflé-type consistency and is one of the most affordable on the market. For best results, apply and allow two to three minutes to set in before applying foundation or powder.


Smashbox Photo Finish Primer - This is really one of the primers that started it all. The Smashbox primer is sold in travel and full-size options, so it's great to pack on a trip. This primer comes in a variety of color options, from clear to bronze to color-correcting such as green. I've used the green when I've had a breakout or the bronze in the summer.


Laura Mercier Primer Foundation Radiance - This primer is great for achieving a glow while extending the life of your makeup. Because it casts a nice glow, it's great for areas where you commonly need highlighting, such as above your cheekbones or your under-eye circles.

Your Favorite

Mary Kay Foundation Primer - Jessica Miranda from Altus, Oklahoma wrote "Can put a pea size on finger for full face. Feels like silk and still can swim and do not lose my make up. BEST EVER."