Going To All Lengths with Hair Extensions
"The hair is the richest ornament of women." ~ Martin Luther - These days, long, flowing hair is a "rich" ornament in more than one sense of the word. More and more women are paying dearly to buy (rather than grow) long hair. Now they can go from short hair to luxurious long tresses for the investment of a few hours time and up to several thousand dollars.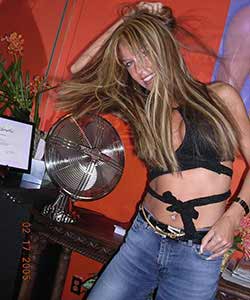 Model: Andrea Neeser from Switzerland - Photo at Yellow Strawberry Salon, Florida
Why are we willing to pay that kind of cash to have somebody else's hair attached to our heads?
Hair extensions give you long hair in four to six hours.
They make thin, sparse hair look fuller and thicker.
There are dozens of colors to choose from.
You can easily get a highlighted effect by blending 3 different colored strands.
Hair extensions can be permed for a curly or wavy look.
You can even get hair extensions with Swarovski crystals embedded in the strands for extra drama.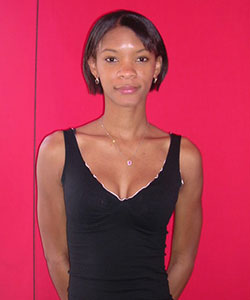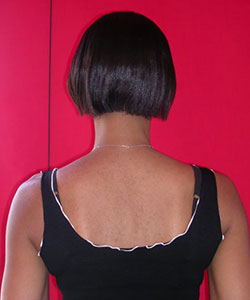 Extension Model: Before with short hair
"Extensions is you suddenly have long hair when you have short hair, and you can sleep with it and you have it forever, as long as you want to." ~ Nina Hagen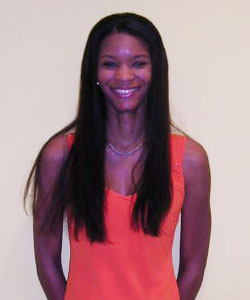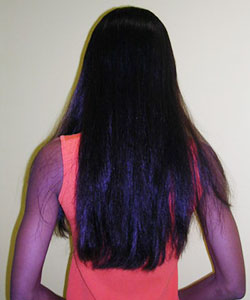 Extension Model: After Extension - By Jesse Briggs
The king of hair extensions is style artist and hair icon Jesse Briggs of Florida's Yellow Strawberry Salons. He says his preferred method of attaching the extensions involves protein bonds fused with heat to the client's hair within an inch of the scalp. This type of bond can later be removed without damaging the real hair.
Briggs says a good extension application can last from four to six months as long as it's cared for properly. That means returning to the salon three days after the installation for the first shampoo, blow dry and styling, and to check the bond. After that, monthly bond checks and shampoos at the salon are recommended.
Caring For Your Extensions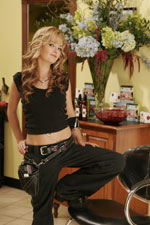 Briggs says it's safe to use styling tools like blow dryers, curling irons and hot rollers on your extensions – just be sure to keep direct heat off the fused bonds that hold the extensions to your real hair to avoid weakening them.
"One thing you MUST do is brush daily using a special brush. I recommend the loop brush. Without regular brushing you can get matting or tangles, which can damage the hair," Jesse warns.

"I'm a big woman. I need big hair." ~ Aretha Franklin
The Cost
The cost of hair extensions depends on whether you opt for synthetic or human hair. Synthetics can cost up to $US500; real human hair extensions are priced from $750 to $US2,500, depending on the length and amount of strands needed. (Briggs recommends human hair for ease of styling.)
He says price seems to be no object when women and even some men want long hair in a hurry.

Recently, he told a New York Times reporter that parents don't flinch when their daughters ask for extensions. He says, "Instead of a $75 up do, they are spending $2,500 for extensions for the prom." In fact, the look is so hot that Briggs now has 40 stylists trained to do extensions at his five Florida salons.
And the distributor that supplies him with the hair, Great Lengths Hair Extensions, reports they've enjoyed a sales boom of 64% over the last two years. They literally sell a ton of hair every month.
The Eternal Appeal of Long Hair
"I keep it long because I love the way it feels, part cloak, part fan, part mane, part security blanket." ~ Marge Piercy
Many women find that as they age their hair gets dry and brittle, breaks easily and is harder to grow. For them, extensions are the only hope for healthy-looking hair.
People born with fine, lifeless hair love them too... their limp locks can be transformed into Amazonian tresses in mere hours.
But most women who go for hair extensions want them because the trend is turning towards long, romantic, ultra-feminine, wavy hair and they don't want to wait several years for their own hair to grow in the natural way.
It's that dramatic, long hair feeling of being yourself only better, more striking, more romantic, that is driving extension sales at Yellow Strawberry Salons.
"I have done hair extensions on everyone from office workers to celebrities and I can tell you, they all undergo a very real transformation when they leave here with long, beautiful hair," says Briggs. "They tell me they feel like a movie star!"