Braided Updos for Short Hair
Short hair is great! Easy to manage, quick to wash and dry, it's the stress free option for people with lives always on the go. Sometimes though everyone wants their hair to look a little bit fancy and this can be more difficult with a very short cut. There are however lots of ways to make short dos (Above shoulder length) more interesting, whether for a special event or just to change things up.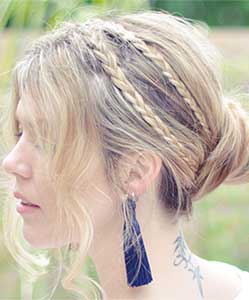 Photo By Maegan Tintari
Source
If you have long hair, check braided updos by AllThingsHair.com for additional inspirations.
Tiny Braids Intermingled with Loose Hair
This easy and laidback style will help you channel your boho chic personality.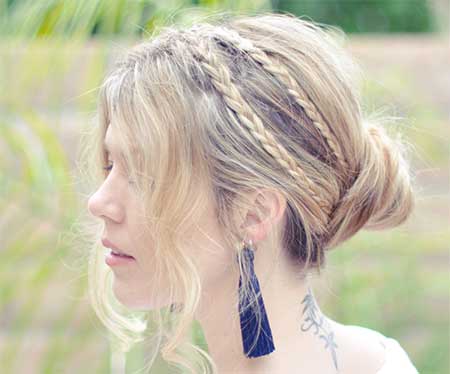 Photo By Maegan Tintari | Flickr
Simply follow the steps for style number one, but instead of braiding all your hair just do a few sections dotted across the scalp. This is one of most versatile braided updos, since you can customize it endlessly. You can always finish this style by tying your hair in a short pony tail or rolling it up in a small bun if you prefer, and also by leaving a few loose strands of hair at the front (if you don't have a fringe) to create a romantic look.
Side-plait
Do you do a job where you need to keep hair off your face? This style looks beautiful and is also a wedding favorite for many short-haired fashionistas.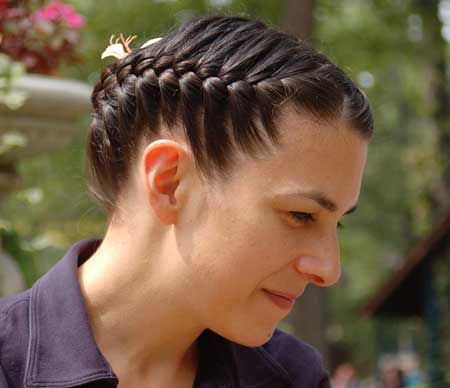 Photo By Scott Feldstein | Flickr
To create this braid wash and dry your hair but try to skip conditioning if you can. With a comb brush forward a strand right at the hairline and about one inch thick. Braid the hair while pulling it down towards your scalp to make it sit smoothly against your head. You can also French braid it or fishtail braid it instead – whichever you prefer. Just don't forget to finish it off by securing with a hair tie and additional pin clips.
All-over Hair Braids
The all-over-braids hairstyle is a classic and one of the most practical braided updos for everyday life.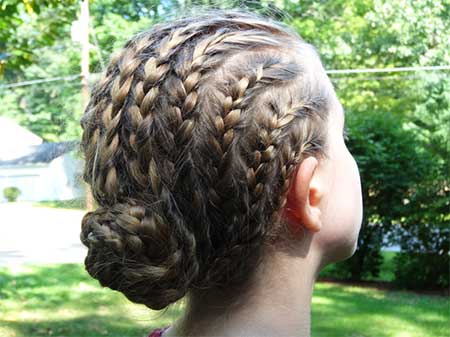 Photo By Wikimedia.org
It takes some time to create, but will stay put for days or even weeks. Although this look is often associated with Afro-Caribbean hair, it's possible to do whatever your type of hair. All you need is lots of tiny hair-bands (make sure to buy good quality ones as the rubbery kind can pull out lots of hairs!) and some free time. Take a small section of the hair, do a simple braid and tie, then repeat until all your hair is in braids. And if you fancy a more elegant look, you can always roll your braids in a bun.
Tip: The great thing about this style is the beautiful head of curls you'll have after taking the braids out!
There are lots of options for braided updos if you have short hair. And if you just feel like giving a different styling to your short locks, you can always go for the classic two box braids, one French braid on each side of your hair to keep it really sleek and tight, or just two casual braided pigtails, because childhood styles never go out of fashion. Just play around and see what works best for you!