Short Shaggy Haircut that is Chick and Sassy
CC is a talented pop songwriter and multi-media producer and ready to rock her look with a new style that is sassy and chick! – Let's hear it from Cutler's creative teams: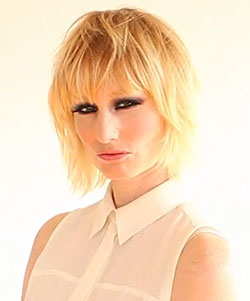 Style By: Dean Holcombe
Dean: "With the haircut we took it up in length to around the shoulders & worked a lot more layers into the cut to give it a shag look. The fringe was already there so we worked the layers around that. The idea is to have heavy fringe and everything else very loose".
Elizabeth: "The color gave CC's hair more movement and body (ruffed the hair up) to add to the edgy look that Dean gave with the cut. Going lighter with the color (like Blondie) but still being suitable for skin tone and complexion. Rocker, but pretty!
Cut and Style: Shaggy
Hair Texture: Straight, Medium thick hair
Product used: Redken Velvet Gelatin to get volume and texture
Hair Stylist: Dean Holcombe
Colorist: Elizabeth Hiserodt
Location: Cutler Salon, Soho - NYC
More Makeovers