Hair Styles For Round Faces
The round face is a full face with a round chin and a hairline that's at widest the cheeks and ears. This face shape is as wide as it is long. The goal is to create less volume around the face and minimize the appearance of roundness while creating the illusion of a longer face.
If you have a round face shape, the best haircut is one that adds length to make your face seem longer, not wider. This face shape can wear short or long styles, but cuts that fall below the chin work best. No matter what length you choose, have your stylist work in some crown layers, which is an easy way to add length and narrow the face while adding fullness to the hair.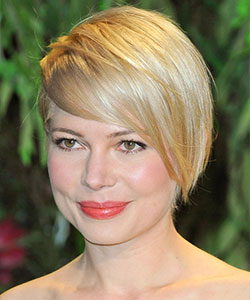 by Carlie Lawson - Photo:Janet Mayer
Graduated Layers
Graduated layers using wispy, tapered ends provide another great tool to make your face seem slimmer. Wispy ends will flatter a round face, but blunt, one-length ends will widen it. If you're a fan of bangs, choose long or side swept ones, and choose off-center or side parts.
Chin-length Bob
If you going for short hair, try a just below or above the chin-length bob. A great example of a celebrity with this face shape and hair style is actress Cameron Diaz, who styles her mane in a variety of bobs.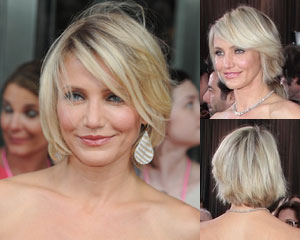 Diaz keeps her hair length from just below the chin- to shoulder-length, and always has some bangs blended into the cut.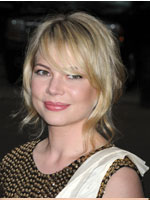 Want a style with shorter appearance? Try actress Michelle Williams' textured, just-above-the-chin bob that she began sporting in summer 2008. The gentle waves at the bottom deflect the roundness of her face.

Shaggy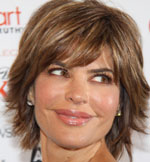 If bobs aren't your style, try a short, swept-back cut that draws the hair away from the face, like actress Lisa Rinnas' shaggy hairstyle. Keep your hair straight, as curls or waves around the face will make it seem more full.

Pixie for Round Face?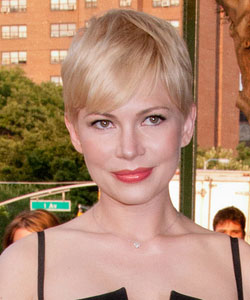 Girls with
petite facial features
can even pull off short pixie haircuts. The trick is to break the roundness of face with side bangs. Enhance the look by adding longer side bangs to break the symmetry of a round face and it will make it appear longer.
Shoulder Length and Longer Hair Cuts
If you like shoulder length to long hair, you'll need a cut with soft, graduated layers to elongate your face. Kate Bosworth and Kirsten Dunst also share your face shape and their long, gradual layers provide a great example of this look. Vary the layers throughout the length, but add the bulk of layers at the crown for fullness.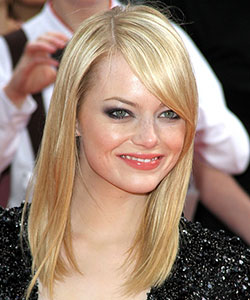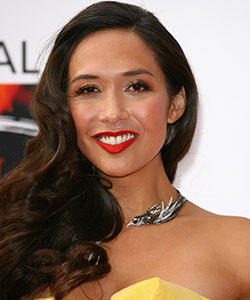 Two different long hair styles that are suitable for round faces.
Adding Waves & Curls
If you have a round face and wearing long curly or wavy hair, minimize the curl and/or wave until you've passed your chin. This is the look classical musician/TV personality Myleene Klass favors for formal events such as the Classical BRIT Awards.
Styled appropriately, wavy hair can actually mask roundness. If your hair is curly or wavy, and you want to keep it that way, choose a shoulder-length cut and use side parts, just as Michelle Williams did in her Dawson's Creek days.
Another option is a long, layered hair cut like Mandy Moore's. It elongates her face and the layers around the face, beginning at chin-length and adding definition.
Styles for Sport
For those who enjoy sports activities, a round face can cause frustration because it does not look its best with all of the hair pulled back and/or tucked away. It isn't impossible to get it out of the way and still look good though. For short hair, a simple, thin headband can push the hair back from the face getting it out of the way while creating volume at the top and sides of the crown, which will add height and elongate the face.
Ponytail for Round Face
Keep your shorter bangs in front though to cover your forehead. Many stylists tell those with round faces never to wear their hair in a ponytail, but never say never. The round face can wear a ponytail so long as the bangs are kept loose, as are a few tendrils of above or below chin-length hair. This frames the front and works with either a low or high ponytail.
Final Thoughts
By including a few layers to build texture, especially at the crown, and working the majority of the waves and curls beneath chin level, the round faced person can wear almost any style. Since hair styles change often, one of the easiest ways to keep abreast of the latest looks great for your face shape is to identify celebrities who share it, and keep up with the looks they're sporting.
Round Face and Hair Types
Style Suggestions for Round Face