How to Fix Matted Hair?
by Pam
(Beloit, Wisconsin)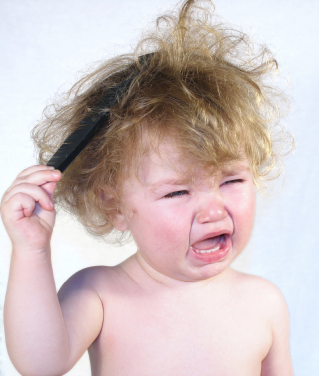 I have a BIG problem that needs a BIG solution!! My granddaughter is 5 and has long hair, mid-back range. It is very thin and can create a mess at times. But now she has done it.

Somehow, she got a HUGE and I mean HUGE matted hair mess in the back, starting at the top of the scalp and goes 1/2 way down the back of her head. It reminds me of a dog with matted hair.

My daughter and I for the last 2 days have tried brushing it out to no avail. All she does is cry which breaks my heart but it is bad! How can you even begin to get this mess apart? You can't cut it cuz you'd have a shave her head! Do you have any suggestions or solutions to get this fixed? Please, we need your expertise and help!!!!!


Couple of suggestions

This problem is common among children with fine baby hair. Their hair texture is much different from adults because of its softness. Even some adults with thin curly hair manage to get themselves into same situation.
The most common reason for matted hair is friction and static electricity created in hair by rubbing it against other materials. It can also caused by bad perm or chemical treatment, but this is clearly not one of them. If hair is rubbed together while the surface charged by static electricity then it starts to get severely tangled and if not treated, larger knot and hair breakage will start to follow.
Solution:
Wash the hair with a gentle shampoo and use a hair conditioner. Use leave-in conditioner (detangle conditioner) or any other product that can make hair soft and easy to comb. Use your finger at start and rub the product gently on matted area and let the product penetrate the hair and make it soft.
Then you need to comb the hair gently while adding leave-in conditioner. Start with a wide-toothed comb (Do not use any brush) and then change to a smaller comb, as it gets easier to comb through. It might appear as an impossible job at start, but don't panic and have patient. Repeat this every day for several days. It will take a while depending on how badly matted!
During the treatment, some of them start to loosen up and you might even need scissors to cut some of the strands that badly damaged. Healthy hair strands can get tangle by these damaged hair, so it's necessarily to cut them off to avoid more tangle. Use your judgment to see if this is necessarily or not!
If it seems to be totally impossible, I suggest you get professional help and book time with your stylist. They have more concentrated formula that can help your grand daughter.
To prevent and reduce future problems:
Never let your children to sleep with wet hair.
Never let your kids rub their hair on carpet while playing around.
Never use pillows made from synthetic material.
Always use conditioner after shampoo to smoothen the hair.
Comb the hair twice a day specially every night before sleep.
Buy a good detangling spray and use it as soon as you see signs of any tangle.
Wish you luck!
Use Satin Pillowcase
by: M.S

I use to have the same problem with my own hair. Soon as change my old cotton pillow with a satin, all was better in the morning. I have curly hair and very fine.
Gum or glue stick to my kids hair
by: Anonymous

Once gum or some kind of glue was stick to my kids hair and I got advice from a friend. He told me to mix couple of tablespoon baking soda with water and a little shampoo and let it stay on hair for 5 min. and then comb it out. And it worked.