How to Get Sun Kissed Glow with Bronzer
Putting on bronzer can give you that sun kissed glow without catching actual rays outside. Bronzers come in shades and textures to suit everyone. Follow some of the tips below and you will look tan and svelte in no time.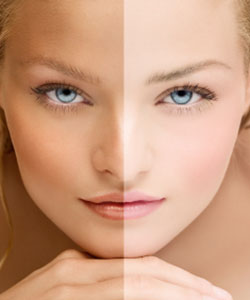 By Skye McKiernan
How to Apply and Get That Glow
The simplest approach to applying bronzer is as a light dusting of color all over the face. This is also the easiest way to over apply bronzer though, so make sure you either pick up a small amount of powder in your brush or apply very lightly with cream or liquid types. The more subtle way to wear bronzer is to apply it only to the highest points of your face, or the areas where you normally get sun.

Think of the last time you made that huge mistake of forgetting your sunscreen. You ended up with extra color on your nose, forehead and cheeks. The best bronzer tip is to apply color to these areas and a tiny bit on your jaw line for contouring.

Bronzer Types and Choices
One of the biggest choices you have to make when selecting a bronzer is if you want one with a shimmery or matte finish. Bronzers are available in cream, liquid, and powder forms. Body bronzers are also available and good if you like the concept of putting some temporary color on your body and not just your face.

Powder bronzers come both pressed and loose. Cream bronzers come as a lighter-weight cream or in a stick form. Liquid bronzers come with and without shimmer.

If you have dry skin, you will want to choose a liquid or cream bronzer with a shimmery finish to make your skin look more hydrated. Combination and oily skin types benefit from powder bronzers, whether pressed or loose. For normal skin, you get to use your gut instinct and pick whichever bronzer seems most like your personal style. If you are looking to add some temporary color to your body, select a liquid body bronzer and smooth it on your skin after you have exfoliated and moisturized well.
Selecting the type of bronzer you want to use can be challenging, but narrow it down by understanding what form works best on your skin. Once you get your bronzer selected, apply it in the way that fits your skin type and coloring. These simple tips give you a quick way to apply bronzer to give yourself a glow that will not look artificial.