Natural Serum to Grow Eyelashes and Eyebrows Thicker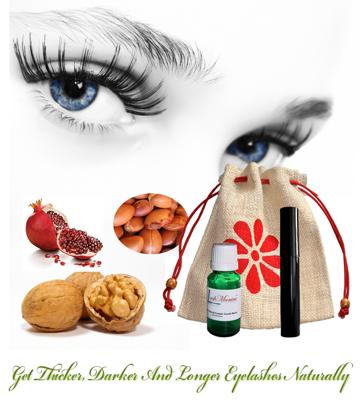 From Pomegranate Seed oil to Moroccan Argan, Walnut, pure cold pressed oils, and other yummy natural ingredients to chemical, hormonal growth ingredients, Vitamins and antioxidants! Many different eyelash enhancer products are sold online, via infomercials, and in drugstores; but do they really work? Can lash treatments such as eyelash enhancers really give you the eyelashes of your dreams? Here some words from independent author and Medical Doctor Kristie Leong to shed some light on this subject


What's in These Lash Treatment Products?
Eyelash enhancers may contain a variety of ingredients – depending upon the product. Some contain various combinations of vitamins - which the manufacturers claim creates a healthier environment for eyelash growth. Products containing only vitamins are unlikely to be harmful, but it's also unlikely that they'll have any real effect on eyelash growth - since vitamins have never been shown to stimulate eyelash growth unless there's a deficiency.
Eyelash Enhancers: Some Are More Like Drugs
On the other hand, some unscrupulous companies are marketing lash growth treatments that contain prostaglandins. These are hormone-like chemicals that are naturally produced in the body and have a variety of functions – one of which is to lower the pressure behind the eye. Because of this property of prostaglandins - prostaglandin analogues are often used to treat glaucoma. One of the effects of using these prostaglandin analogues is increased eyelash growth.
Lash Growth Treatments: Can They Lead to Eye Damage?
Of course, the FDA doesn't allow prostaglandin analogues in cosmetic products because they can lead to eye problems. So, the manufacturers of these lash growth treatments are illegally marketing what's essentially a drug - as a cosmetic. So, you don't know what you're getting when you buy these lash treatments. Nevertheless, most don't work and when they do, it may be because they contain illegally added prostaglandin analogues.
Prescription Eyelash Enhancers
There is now a FDA approved lash growth treatment on the market called Latisse. Latisse is a product that also contains a prostaglandin analogue – but one that's been studied and cleared by the FDA. It can help people grow longer, thicker lashes, but it, too, has some drawbacks and side effects. For one, it's expensive. The cost of a month's supply of this lash growth treatment is $120.00 – not exactly chump change for most people. Plus, it can cause eye color to turn brown and the lids to darken. Some people also experience eye redness and irritation. On top of that, health insurance usually doesn't pay for this type of cosmetic treatment.
Eyelash Enhancers: The Bottom Line?
It's best to avoid cosmetic lash growth treatments since most are ineffective, and the ones that do work could contain illegally added prostaglandin analogues. Latisse is a prescription option that works for many people, but also has disturbing side effects such as eye and lid color changes. The best option? Stick with safer options such as lash extending mascaras.
What About Cold Pressed Natural Oils? Do They Work? - Share Your View
Can argon oil be used as serum to grow healthy eyelashes?

Argon oil will certainly nourish, moisturize and lubricate eyelashes and have great benefits for hair as moisturizer – it has anti-inflammatory properties and very light and non-greasy – And this by itself helps eyelashes to look healthier and appear longer BUT there is no scientific proof to support eyelash growth (True growth: by having impact on growth phase "anagen"). So it's a matter of perspective.