Removing Matted - Tangled Hair or Dreadlocks
by Take Down Hair Products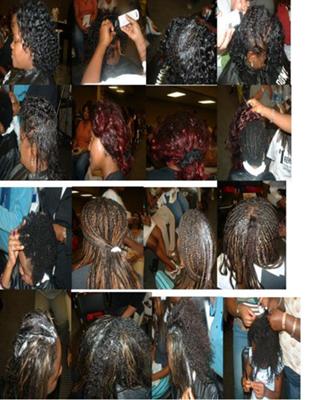 Removal of Matted Hair braids or Hair weaves
If you have been in the hospital or in a position where you can't comb your hair-you are dealing with the same frustrations as countless numbers of women.

Except most of these women are secretly suffering from improper removal of hair extensions, braids, braiding hair extensions, add-on hair, fusion, bonding hair glue, weaves and dreadlocks.

Matted or tangled hair causes women to lose hope, it is even affecting the self esteem and self worth of several growing girls as well.

Salon professionals or home users don't have the time or patience to remove braids, bonding glue, hot-fusion, dreadlocks, weaves or hair extensions the right way. Home users are suffering from thinning and balding when they snatch the bonding glue out of their hair. Or when they rush by ripping braids out of their hair without combing through the knots and tangles at the root of the hair. Many stylists are experiencing the same problems with their clients.

Add-on hair should be worn for enhancing beauty-not because of self inflicted balding and hair damage.

Well there is a product that makes the removal of matted and tangled hair or even dreadlocks easy and fast and painless. Visit the Take Down Products website and save your hair and time.
Click here to answer or post comments
Join in and write your own blog page! It's easy to do. How? Simply click here to return to Hair and Scalp Problems.