Get Best Result with First Time Hair Coloring
Is this the first time you try to color your hair like professionals? This is for you. First try to choose a uncluttered place where you can assemble all of your ingredients and supplies and get to them safely and easily.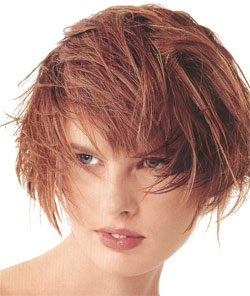 Cover the counter top and surrounding floor with either plastic drop cloths, or at least newspaper, in case you have a spilling or splattering accident. Today, most new over the counter packages are designed to be less messy but stay safe than sorry!

I also recommend treating your hair in a ventilated space to minimize your exposure to the chemicals.
Assemble Your Hair Coloring Tools and Supplies
Open up and remove all of the items that come with the hair coloring kit that you purchased. The average kit will include the coloring liquid, a bleach-like substance called the developer, and the all-important instructions sheet! If you decided to do your coloring the professional way then you'll also need a measuring cup, a bowl and, perhaps, a color applicator brush if one isn't included in your kit.
Most beauty supply stores offer a special plastic bowl that has an indented spot for grasping it with your thumb. The better ones also have a rubber pad that prevents tipping and sliding. These kits also include a flat hair brush, with a rat-tail end, which will come in handy when you are dividing your hair into sections.
Always protect your hands when coloring. If your kit did not include plastic gloves, pick up some while you are at the store. If you have a few extra bucks to spend, spring for a plastic cape to protect your clothing and skin from drips, splatters, and spills.
You'll also need a clock so you can accurately track the amount of time that the products remain in your hair.
Hate Unwanted Color Results? Perform a Strand Test
A strand test lets you preview what your hair is going to look like when you are through with the coloring process. By testing a small portion of your hair you can avoid wearing hats for the next six months if the resulting color looks nasty.
To perform a strand test simply mix a few drops of the color solution with a drop or two of the developer. Then snip a few strands of hair from somewhere that is not noticable. Wrap some tape around one end of the strand to keep the hair together. Then just dip the end without the tape into the test mixture that you just made and leave it in there for the amount of time that is specified in the instructions that came with your hair coloring kit.
Remove the hair, rinse it under running water, dry it thoroughly and take a look at the results. If you are happy then move on to the next step. If you're in shock then it's back to the beauty supply store to make a different choice.
For any other coloring concerns and safety like pregnancy and allergy read this article.
Few video tips to get familiar with hair coloring for different purposes such as covering grey, root-touch and highlighting.
Suggestions for You