Short Hair With Bangs For Naturally Curly Hair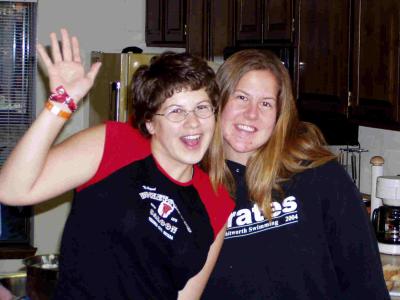 That's me on the left the last time I attempted short hair.
I have long, thick, naturally curly hair and I would like to cut it very short for this summer. The problem is my bangs. If I go too short, my bangs curl up tightly and it looks really ugly. If I don't go that short, my bangs curl around in a very unflattering way. I've tried straitening my bangs, but after an hour or so, they go back to curly.

Is there any way I can get a very short haircut that works with my hair?

Yes You Can
by: N.F.

Consider the following:
Style:
Parting and bangs always create problems for naturally curly hair and thick hair is stubborn and hard to shape. It's always a good idea to take natural direction in which hair grows into consideration when choosing a new style for curly hair. Working against nature makes curly hair care very difficult. So one option is to avoid bangs, if possible! - Another option is to get longer bangs (if you like that type of style!). Short bangs and wavy is not a good combination. Try a different haircut and length!
Products:
With latest advances in hair care and hairstyling products, you have the possibility to straighten your bangs even with most challenging hair types.
In general you should start using products and treatments that make your hair softer. These products reduce the elastic fibers in thick hair, increase manageability, movement and as a result the hair is more easily shaped. Suitable formula can be found in products made for dry and brittle hair.
All Soft product range from Redken
is a good example.
Oleo-Relax from Kérastase
is another fine example. Once hair is relaxed and softens, you can straight your bangs much easier and will last much longer.
Professional Treatment:
I saved this option for last! If nothing worked, then you can opt for a chemical retexturizing service. Salon professional with the right products can
tame your curls or change your natural wave patterns
in a way that make it manageable for a selected style.
Look for salons that carry the
Caribran Dream Relaxer and Retexturizing System
. Stylists that use this product are qualified as wave masters and fully understand how to deal with natural curly hair. This treatment can last up to 6 months.
How to blow dry your bangs straight - video
Click here to answer or post comments
Join in and write your own blog page! It's easy to do. How? Simply click here to return to Curly Hair.