Soft updo style with asymmetric straight bangs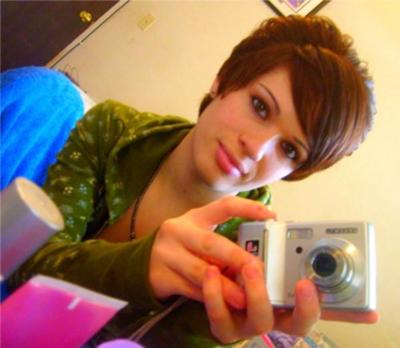 Soft updo style for short hair
Soft updo style with asymmetric straight bangs - How do i get my hair to look like the pic again?


---
Retro style
By: N.F.

This is a beautiful retro modern mix style with a longer side fringe that make it unique. There are couple of ways to achieve this style. Here is one way to do it:
You would need wax, mousse (strong hold volumizing), hair spray, round bruch, multipurpose comb with sectioning teeth and pintail and sectioning clips and flat iron.
After wash, blow-dry the hair until damp - Never have it fully dry.
Apply your favorite mousse for your hair type and work it through your hair evenly with your fingers.
Section your hair from middle using a sectioning comb from top to sides behind the both ears. Pin up the top layers with clips so you can work on underneath layers on the back.
Dry the hair section by section starting from back of the neck working toward top with a round brush from root to give maximum volume.
Back comb the top layers to lift the hair away from the head and use spray to lock the style into position. This should add an extra soft fullness to look like a soft updo style.
Blow dry your front section or use a flat iron. Comb your bangs into position. Warm-up some wax at the palm of your hand and secure the bangs and sides.
I hope this works for you.
Click here to answer or post comments
Join in and write your own blog page! It's easy to do. How? Simply click here to return to Updos For Short Hair.