3 Quick Stylish Fix to Protect Your Curly Hair
Getting your curly, thick or frizzy hair safely (and beautifully) through the summer is always a bit more challenging than the other seasons. There's the humidity that tightens up your hair into retro sausage rolls or a big fuzz ball. Splashing in the pool, lake or sea is fun until you check your hair the next day. And the sun's heat sucks whatever moisture is left out of your already dry, brittle locks. The solution is the three Ps: Prevention, Protection and Product.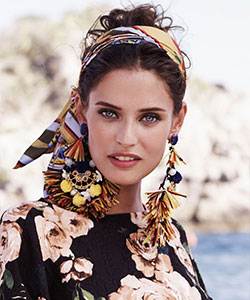 Photo: Dolce&Gabbana summer collection
Prevention
Like health care, the smartest hair care is all about prevention – using clever tactics that will keep your hair out of the emergency room! So here are some tips and style ideas for your curly hair on how to avoid harming your hair in the first place by shielding it from the elements: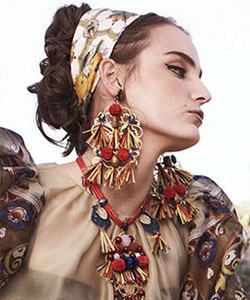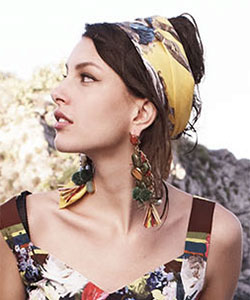 Photo: Dolce&Gabbana
1 - Cover it up. There's a reason why women in the 50s and 60s used to wear head scarves when riding in convertibles or going out in the wind: to prevent damage. Luckily, the look is back and the scarves are even prettier. So if the spirit moves you, wrap your hair in a fabric that suits your mood while it protects your hair.
2 - Hold it down. Wide headbands are a fashionable way to hold your hair in place, keeping the wind from whipping, tangling and drying it out.
3 - Tuck it in. If your hair is long enough for a ponytail, tuck and pin those fragile ends under where they can be safe and secure.
Tips: Scrunch-dry your hair using texturising mousse to prevent the scarf from sliding - Specially if you using silk scarfs!
Protection
Make it part of your daily routine in summer to use only hair products with an SPF (sun protection factor) of 15 or higher. Use a sulfate-free shampoo so blow drying doesn't strip your hair. And when heat styling, use only ceramic curling or flat irons to avoid breakage.
If you know it's going to be an active, outdoorsy kind of day, go one step further and apply a leave-in penetrating conditioner that morning. When the day's fun is over, reward your hair with a moisturizing treatment.
Products
Unless you're 100% thrilled with the hair you were born with – and what woman is? – you'll have learned the importance of finding and using the right products... especially when it comes to managing coarse or unruly hair.

Here is HairPlay Salon founder and master stylist Fritz Clay recipe and style idea for achieving soft and sexy waves with products that he developed for curly hair:
After shampooing and conditioning, use a foam setting lotion like HairPlay's SET or your favorite styling product. I recommend products without alcohol that dry with a shiny finish.


Part your hair into five or six sections. Split each section into two, twist those two strands together, and use a hair tie to hold the ends together. Repeat for all sections.


Use a diffuser or portable dryer to dry the sections of hair.


When dry, undo the twists, apply a weightless shine serum such as SEAL by HairPlay, and finger style your soft new waves.
Quick Glamour-on-the-Go
In summer, you may also need some quick fixes to style your curly hair in a hurry. Here are three easy and beautiful looks. Start by applying a styling product, twist hair in large sections from both sides of your head, and pin it back. When dry, choose one of the following styles:
For a daytime casual look, release the twists, separate strands, and finger fluff with a shine serum like SEAL.


For a dressier, nighttime look, gather hair into a high ponytail, separate and wrap strands loosely around the pony securing with pins. Allow some strands to hang loose. Add flowers or other decorations.


For short hair that wants to be long, add a clip-on ponytail and style as in step #2 above