4 Ways to Style Your Hair Curly
Whether you already have curly or wavy hair or you got a new wave treatment at salon, you probably want to get that perfect salon look at home and repeat what your stylist did. Here are some styling instructions for you to try at home.
Style by Shelly Van Pelt - Yellow Strawberry Hair Salon
We used Bumble & Bumble products to achieve different looks but you can use your own favorite brand(s):
Natural Look
Photo: Courtesy of Frances London Du Bose
Towel dry hair to remove excess dampness
Start by prepping the hair with either Bumble & Bumble's Tonic or Prep
Next, comb through hair, scrunch, and let dry naturally.(For added wave definition, use a small amount of Bumble & Bumble's Curl Conscious Curl Creme.)
Defined Waves
Photo: Courtesy of Style Stars Inc.
Repeat steps 1 & 2 from "Natural Look" instructions
Use Bumble & Bumble's Curl Conscious Curl Creme. (Use in either Fine to Medium or Medium to Thick depending on your hair texture)
Blow dry hair using a diffuser
Once hair is mostly dry, finish waves with Bumble & Bumble's Does It All Styling Spray
For best results, do not comb through hair once it has been diffused
Ultimate S Waves
Photo: Courtesy of Yellow Strawberry Salons
Repeat steps 1 & 2 from "Natural Look" instructions
Blow dry hair with finger tips until completely dry (no brush needed)
Use a medium barreled curling iron to create "S Waves"
Start from the front of the hair and move towards the back
Hold curling iron horizontally; wrap each wave away from the face
For best results, Slide each wave out of the curling iron. (Do not unwind wave from the iron.)
Allow each wave to cool completely, and finish with Bumble & Bumble's Classic Hairspray
At this point, shake your hair a few times to loosen the wave, and run fingers through if necessary
Voluminous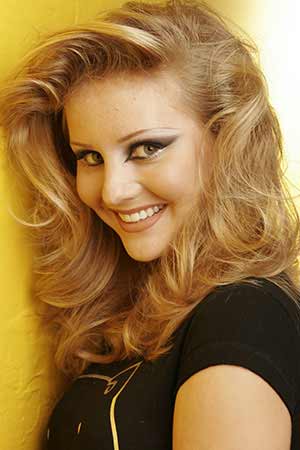 Photo: Courtesy of Yellow Strawberry Salons
Repeat steps 1 & 2 from "Natural Look" instructions
Blow dry hair with finger tips until completely dry (no brush needed)
Blow dry with round brush or flat iron hair until you have found a desired texture
Some Suggestions for You