Tone Down Over-bleached Hair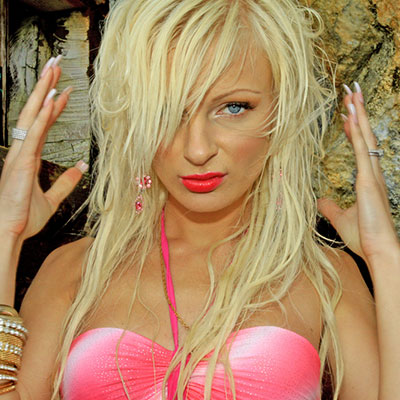 If you used only bleached to lighten the hair then you must use toner to tone it down. They are available in different shades like rose, silver, ash, beige, etc... They don't contain hydrogen peroxide and easy to use BUT its very important to choose the right tones. You also need to understand the porosity of the hair (the ability to absorb color) because if the toner stay too long then you get a green, blue or even a purple tint. If the hair is too light toward lightest yellow, then its better to use a natural base. Go to Sally and ask them for advice.

Don't try to go for a dark color or getting previous color back. That is something you really don't want to do at home. The bleached process has removed all her natural pigments and as result her hair is in a very weaken state and won't be able to bond the new introduced color -- simply any new hair color will not be able to fill all the gaps and that results in a patchy color and you will notice hair color fading right after first wash.

The hair stylist will use a color-fill or pre-pigmentation technique prior to actual coloring-- Tinting back.

Another option is to keep it as it is and try to use an intensive highlight conditioner like Redken Blonde Glam Pure Pearl. It won't tone it down as such, but it will slowly deposit color pigments that neutralize those light yellow tones and give it a fresh look.

But then, you can always go to a good hairdresser and avoid additional risks.


Toner down with Color Touch
I always recommend a hairdresser as your first option, but if you do professional job at home then you can tone it down with Wella Color Touch 9/16 mix with Pastel Cream Developer 1+2 and let it stay between 10 - 15 min. Its easy as long as you know what you doing!
Click here to answer or post comments
Join in and write your own blog page! It's easy to do. How? Simply click here to return to Hair Coloring .