Why Treat Psoriasis with Dead Sea Minerals?
We have seen this skin condition - In most common form leaves red, raised patches covered with a silvery scale and is usually found on elbows, knees, scalp and the lower back. You've probably tried a wide range of treatments to help ease your symptoms. Psoriasis is one of the most stubborn skin problems known to humankind. Lets talk about an ancient and natural skin care product that makes you feel like Cleopatra. ...And You Don't Even Have to Go There to Get the Benefits!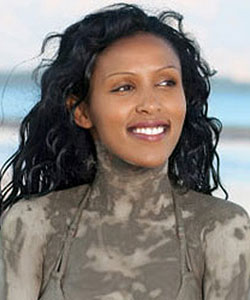 Approximately 2-3% of the population suffer from psoriasis and at least half of them have it on their scalp as "scalp psoriasis". Because psoriasis is a lifelong condition, sufferers often spend years just trying to find a way to manage it. These days, many of them are turning to the Dead Sea for answers.
Your Skin and Scalp Craves Minerals
The Dead Sea contains an extremely high concentration of salts and minerals that have a beneficial effect on psoriasis, eczema, acne, wrinkles and very dry skin or scalp. They seem to help by replenishing the essential minerals that the skin needs to retain moisture. The Dead Sea salt has 26 of these minerals.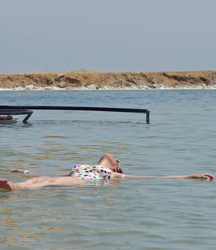 Dead Sea, Israel
Studies have found that most of the patients who bathed in the mineral-rich waters of the Dead Sea and basked in the dry, sunny heat of the region experienced either full remission or a marked improvement in their condition.

In fact, the National Psoriasis Foundation reports that, "Dead Sea salts, mud and other products containing the minerals of the Dead Sea are available over the counter through a variety of companies. These may be helpful for some, particularly in relieving itching and redness."
Minerals concentrations found in dead sea are ten to fifteen times stronger than minerals found in other seas. Dead sea contains more than 20 minerals including Sodium (good for dry skin), Potassium, Magnesium (help with psoriasis and people with allegic reaction), Bromide, Chlorine, Calcium and more.
So for those of us who can't simply hop on a plane and go to the Dead Sea, the next best thing may be products formulated with minerals in dead sea salt extracted from that health-giving body of water.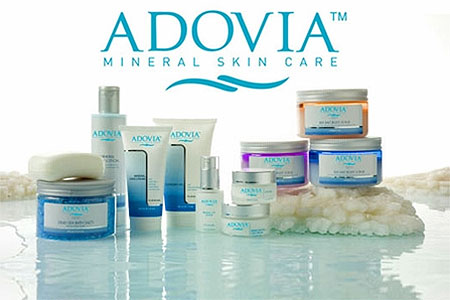 One company that specializes in beauty products and dead sea salts from the Dead Sea is Cleopatra's Choice. They describe two main benefits: first, the products cleanse the skin to remove particles from the pores; then, the minerals tighten the skin and replenish the natural moisture levels to make the skin glow with health.
The range of Dead Sea products is growing as word gets out about how effective they are in treating skin problems. Beauty companies are now marketing Dead Sea body mud, facial mud masks, soaps, salt scrubs, bath salts, cremes and moisturizers, and more.
If you combine these products with a nice blast of summery sunshine – well, it won't be exactly the same as a vacation to the Dead Sea, but it will feel great and you may notice a pleasing improvement in your skin.