Vampire Makeup with Luna Twilight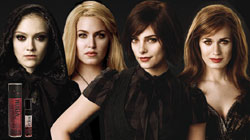 Vampire Makeup with Luna Twilight
Now Twilight fans with short pixie and spiky hair cuts can replicate Alice's vampire makeup by mixing a couple of drops from the new Luna Twilight Face Glow with face moisturizers to achieve that "out of this world" vampire look.

Alice's make up is Eclectic and Spunky with shimmering blue and silver shadows, rosy blush and sheer hot pink lips.

But that's not all. Luna Twilight is the latest line in cosmetics brand developed with the ultimate Twilight fan in mind to reflect the mood and spirit of the Twilight female characters.

This vampire makeup collection offers products like Rich metallic mascaras in shades of chrome black or metallic blue and high intensity eye shadow with an ultra smooth cream shadow formula to complement and highlight.

Click here to answer or post comments