Ceramic Tourmaline Flat Iron - For Short thick Hair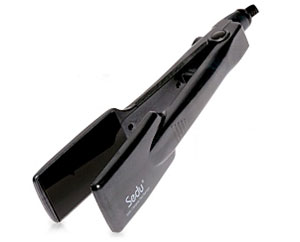 Sedu Pro Ionic Ceramic Tourmaline Flat Iron - 1.5 Inch
Its width makes it perfect for short thick or ethnic hair, as well as short to medium normal or fine hair types. With its 1,5 inch plate you can achieve faster the desired results.

Designed with high quality Tourmaline infused ceramic plates, this flat iron will help reduce static electricity in your hair, to eliminate frizz for smoother and shinier results. This product features an exclusive heat optimization technology and its ergonomic shape is specially designed to protect your scalp from burns and your hair from high heat damage.

The adjustable temperature control makes it adaptable on any type of hair. We recommend:

370-410°F for coarse, ethnic and very thick hair
350-370°F for curly and wavy hair
330-350°F for normal hair
300-330°F for thin hair
240-300°F for very fine and fragile hair

Its body is ultra light and it reaches target temperature in a mere 25 seconds!