Dying over black hair color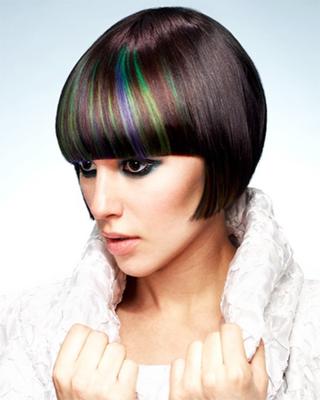 Image: Webster Whiteman Salon, London
Naturally I have ash brown coloured hair, fair skin and dark brown/black eyes. I recently dyed my hair black. It looks dreadful, and I was wondering how do I lighten it again without having to either let it grow out, or making it go a strange grey colour? Is there anything I can do?


Dont just color it back - Have fun first
by: Lora
Before you change your color again, try to consider changing your makeup. It can be easy at start to look a bit washed out. Try a bronzer and some gloss and you might even like it! If that is not helpful, try adding a personal statement by merging bright colors into your current hair color.
To Remove: Use bleach or oxidative colour remover
by: NF
You can use
bleach or oxidative colour remover
to remove the colour pigments and lighten the hair in one or two steps to a specific stage and that stage depends on what colour you want when finish. For example if you want to have a brunette/brown then the hair must be lighten to a dark orange state. After that you apply the desire hair colour over the whole hair. If you have fair skin tone, then you also need to add ash tones to make it work with your skin colour but not much or else it will look dull.
The
process with bleach
is straightforward and won't cost much: Shampoo the hair, don't wash the shampoo and apply the bleach and then wash and dye it again. It sounds easy, but the
timing and the concentration of the peroxide is critical
and the process must be watched constantly by a professional and I do not advice doing this at home.
If you previously used a non-professional (drugstore) hair colour
to dye it black, then you need to tell this to your stylist because some of those colours contain chemicals that are not compatible with bleach. Your stylist might decide to do a strand test before choosing a methode.
I can tell you to use a
colour remover like Loreal colorzap
. This product designed to remove the artificial colour pigments, but that might not be strong enough to get all the colour pigments out in one step or worse, your roots might get lighter than rest of the hair. But overall, it's safer to use colour remover rather than bleach at home and works 90% of the time. Once you removed the colour, it turn orange and then you have to dye it again.
Remember, using colour remover depends on how long ago and what hair colour you used previously. If you applied black hair colour over a previously coloured hair (colour over colour), then colour remover might not be effective enough. Read the instructions carefully before choosing this alternative.
Wish you luck!
Color Corrector?: Rusk Elimin8
by: Anonymous
Try Rusk Elimin8 color corrector. But do a strand test. You don't know how it react with your previous coloring. If it sound too complex, then don't do it yourself. Just go to your stylist and take the previous color package with you. They must see what you used before!!
Click here to answer or post comments