Notice me Makeup for Short Hair
Watson possesses a youthful glow and to-die-for skin that means she doesn't really have to wear a lot of makeup to look her best. When she does vamp it up, it's usually with a notice-me lip, liquid liner and plenty of mascara.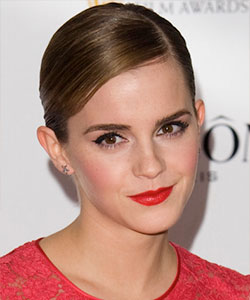 Photography: Simon Burchell, Article: Rachel Nall
Since MAC is the cosmetics queen when it comes to colors, try "Saint Germain" lipstick, a pale, pastel pink that's right up Watson's alley. If you are feeling a little darker and more mysterious, try a true red such as MAC "Red" or a deep-berry inspired tone such as "Hang-up" (all at MacCosmetics.com).
If you want to add the liquid eyeliner into the mix, try a foolproof, pen-like option such as L'Oreal's Telescopic Precise Liquid Eyeliner in Carbon Black (at Walgreens.com). Liquid eyeliner can be tricky, so don't feel badly about having a few stop-and-go tries. You may want to keep some cotton-tipped applicators dipped in eye makeup remover handy in case you make any goofs. While standing in front of a mirror, close one eye and use your hand to pull the eye skin taut.
Starting at the inner portion of your eyelid, create a thin line near your lashline, following the gentle curve of your lashline. You can then double-back and increase the thickness of the line near your lashes or gently flick the liner upward to create the wing-like effect.