Global Keratin Treatment
by Raji
(USA)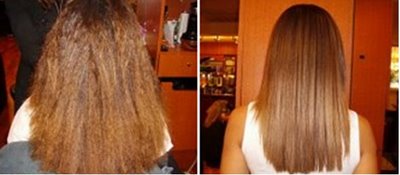 Before and After Global Keratin Treatment
I really had bad hair day every day. Managing my unruly, frizzy hair was a nightmare. I tried several hair straightening techniques like Japanese straightening and relaxing but instead of making my hair look good it only worsened its condition.

Due to excess chemical treatments my hair started falling and became even more dull and dry. That is when Global Keratin came to my rescue.
I came to know about a show hosted by Global Keratin in Miami and attended it. They were giving live demonstration of their flagship product Keratin Hair Treatment. They explained that Keratin is the natural protein our hair is made up off and by using keratin based treatment our hair will become healthy and strong. Also this treatment is free from chemicals and prolonged usage will make the hair lustrous and full of volume.

Hence I decided to try their product and visited one of the Salons doing this particular treatment. As soon as I reached the Salon I was given all the necessary information about the dos and don'ts of the treatment and its benefits.

Then during a 2hr process of washing the hair, applying the product, blow-drying the hair and ironing the hair to seal the product my hair was magically transformed to straight, sleek and shiny hair. I just could not believe my own eyes as I had completely lost all hopes about my hair.

Unlike other hair straightening treatments my hair did not become poker straight instead it felt so soft with slight wave.

Maintaining my hair after the treatment was simply effortless. I just wash and blow-dry or sometimes towel dry and brush. This treatment lasts for 3 to 4 months can't wait to get it done all over again.
Now everyday is a GREAT hair day for me!