HAI Flat Iron for Medium Length
by Stylist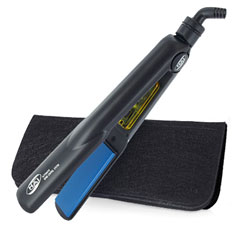 Photo added by site admin - HAI
If you looking for a flat iron for less but high quality then get yourself a HAI convertable ceramic flat iron. Working as mobile stylist, I tested this iron on several hair types. All good results. Most of my clients got medium length hair with trendy look (8 of of 10) and this hot iron was convenient to use.

It gets hot very fast - faster than my other irons but the temperature can be regulated. Protection serums are a must when using this iron because the heat transfered to hair in a matter of seconds and without protection you will be disappointed in result and even get a more frizzy and damage hair.

The heat distribute evenly on plate, so the center is not hotter than corners like the older irons. For colored and fine hair use less settings to protect the hair and color.

I won't say this is the best flat iron I ever had, but its reasonable, practical and reliable for its price.