Summer Hair Styles And Holiday Hair Care
Keeping your style under control isn't just about keeping your expensive up-do from falling down while you're dancing. It's also about healthy-looking hair during those wet, hot, and sticky months of summer, whether at home, on vacation or at the beach.
Those who live in areas where the sun and humidity get downright unbearable during the summer know how difficult it is to keep their hair looking good. Here some few simple summertime tips.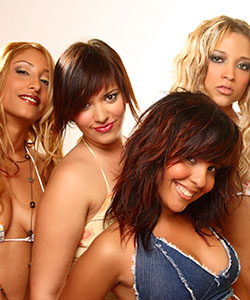 Photo: Courtesy of Jesse Briggs
What to Do Before Your Summer Holiday
Hair that's full of split ends looks bad so the first thing you should do even before the summer months set in is give your hair a good trim to remove those damaged ends or try a new haircut. Hair looks instantly better after it's been cut. Perhaps a good time to choose a beach-ready hair style.
If you plan to color your hair, remember that chemically treated hair is more vulnerable to environmental conditions such as sun, water and humidity. Plan your hair coloring three weeks before your trip so your hair has time to regain its natural balance and is more resistance to damage.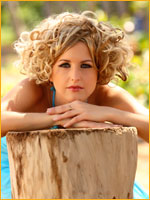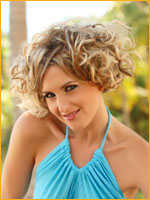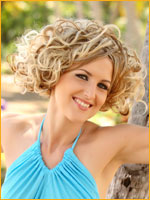 Photo: Tom Carson - Style: Egidio Borri - Color: Flo Briggs - Model: Sofia
Fortify your hair with a deep conditioning treatment prior to your vacation. This will help to smooth the hair, repair damage and make the whole hair structure stronger.
Depending on your destination climate, you might also need to bring a surface hair conditioner with moisturizing qualities for hot, dry weather or frizz control cream for a humid climate. Unlike deep conditioners, these products coat your hair with a protective layer while adding gloss and making your style more manageable.
Try to pack away you hot styling tools. Switch to super hair friendly Velcro, sponge or soft rag rollers combined with air-drying for lower risk of heat damage.
What about Fine Hair?
Lots of people with fine hair apply too much anti-frizz lotion to their scalp and hair, which makes it look greasy and weighed down. Instead, apply a light conditioner beginning at the middle of the hair strand and continuing down to the ends. Then finish your hair style with anti-frizz serum applied only to the ends to seal off the tips so harmful elements to hair can't enter the hair shaft.
Swimming and Hair Color
It just wouldn''t be a summer vacation without time in the water. Water activities are a lot of fun, but they can also wreak havoc on your hair. Whether you're swimming in the sea or at the hotel pool, always rinse the sea salt and chlorine out of your hair with plenty of fresh water.
Chlorine dries out the hair, making it brittle. It also fades the color and with some hair colors, can turn hair an unsightly shade of green. It's not the chlorine that turns your hair green but the presence of heavy metals like copper. The chlorine initiates the process by damaging the hair cuticle, which allows these metals to enter the inner structure of hair. When this happens, you can remove the metals with a special shampoo like Redken Hair Cleansing Cream Shampoo.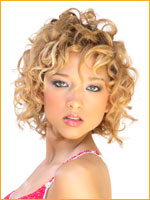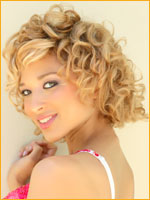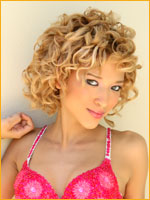 Photo: Tom Carson - Style: Egidio Borri - Color: Flo Briggs - Model: Tania
Your Question: I want to know if there is anything I can do to prevent my hair (mostly the ends) from turning copper or brassy if I go swimming. I love to get my hair wet in the pool, but for fear of this happening I never do. So, any input to help would be appreciated.
-Jennifer from Chandler, Arizona
Answer: You can use hair serum, essential oils, argan oil, etc.. on ends right before swimming to seal and protect your hair from chlorine and minerals that could turn your color brassy or green.
What if already late and blonde hair turn green? An easy and working solution would be to use ordinary tomato ketchup on green area and rinse afterwards. The vinegar and red pigments ( Lycopene) from tomato together will remove the minerals and restore the original color.
We Love The Sun
Yes we know how damaging the sun's UV rays are to our skin, but these rays also damage the hair's structure. They break down the keratin which results in dry hair that breaks easily. So look for hair care products that contain UV protection and use them as directed to help your holiday hair look as healthy as your holiday tan.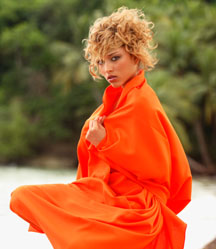 Photo: Tom Carson - Style: Egidio Borri - Color: Flo Briggs - Model: Tania
Following these simple tips will go a long way towards protecting your hair from the harsh environmental conditions of summer.
What to Pack - Hair & Skin Essentials On Holiday
Going away means leaving your current beauty regime behind and opting for products that won't weigh down your hair or your suitcase. Here is a short list:
Shampoo: As your going to be at the beach everyday you are going to be washing your hair constantly so do go for something quite natural rather than a deep cleansing shampoo.
Conditioner: Go for a mild leave in conditioner, which will help unwind your hair, reducing the amount of styling needed.
Hair Serum: Always a good practice to seal the hair ends with small amount of serum before swimming. It helps to protect hair from unwanted minerals and chlorine.
Moisturizers are essential for hydrating your face and body and if you already have a brand of your own then continue to use it and if you don't opt for something with vitamin E to help sooth skin from the UV rays. In addition to your moisturizer, you should also be accompanied by an after sun lotion to help add moisture and also prolong your tan. Also be aware that when your are on holiday you tend to get a tan and therefore not much make up is required so look for a tinted moisturizer to help conceal blemishes that you're looking to liberate.
Lip Balm: Another vital product as your lips become chapped and also need protection from the sun so go for something with sunscreen in it. And at night when all the nasty UV rays have gone, keep them protected and looking glossy.
Facial Cleanser: An idea to opt for a very mild cleanser as your regular one probably has to deal with your everyday impurities from the city. And check again to make sure all these products contain UV protection. AND remember: using UV products doesn't mean you can stay out in the sun indefinitely. Your hair scalp can be damaged if exposed to too much sun so don't forget to bring a sun hat.