How to Control Continuous Hair Breakage?
by Kimberley
(Trinindad and Tobago)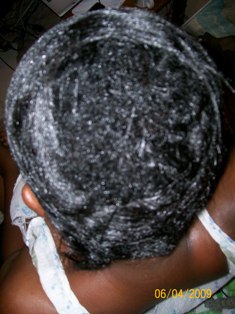 This is the present state of my hair
I need HELP!! Early last year I had full healthy hair, during the year ie March i realized that the middle of my hair starting breaking so i tried using Hair mayonnaise when steaming as a mean to control the breakage. This did not help, i decided to cut off the dead ends and my hair continued to break. In January i realized that moisterizer products thin my hair so i stopped using those products and now i am using oils and i realised that my hair is constantly itching, my scalp is dry and flaky and I DONT KNOW WHAT TO.

I am of African descent so i used relaxers to straighten my curly hair and i dont know what to do!! What appropriate products can i used to help my hair remain moist and not dry and oily.
KCA

Need more protein treatment
I think you used too much moisturizers and/or too little proteins in your hair treatment regime that goes along with hair relaxing. Using hair relaxers in long period of time will damage the structure of hair and no matter how much moisturizers you use, damaged hair can't hold on to it. As a matter of fact too much moisturizers could even damage your hair further.
What you need is a hair damage treatment that contain a well-balanced concentration of protein and Moisturizing agents. This combination fill damaged area, holes and broken cuticles on hair and deliver the moisture to hair shaft. In other words "Deep Conditioning".
Using oil will not help the damage repair and wrong oil types may even contribute to product build-up on scalp and lead to more problems. Your dry and itchy scalp could be result of that!
Under normal circumstances If you use a Lye Relaxer, then use a treatment with 40% Protein and 60% moisturizing and if you use other type of Hair Relaxers then the ratio should be 60% Protein and 40% moisturizer.
Look for Deep conditioning products that offer protein treatment and stop oil treatment for a while. Do not condition your hair with moisturizers every day. There is no such thing as more moisture is better. Read also this post about
home keratin treatment
, you might find it interesting to try.
Repair Therapy
By: N.F.

You might want to try an alternative cheap treatment like ApHogee Intensive Keratin Reconstructor for cuticle damage and moderate breakage. Its also used by professionals to repair damaged hair and you can probably find it in Sally.
Here is the description of the product:
concentrated blend of keratin amino acids, botanical oils to restore strength and softness to hair that requires a deep, penetrating treatment. It is recommended on tinted, bleached or relaxed hair. It helps repair damage caused by chlorine and hard water. It soothes irritated scalp and may be applied following each shampooing until the healthy condition of the hair is restored.