Need Treatments For Damaged Hair?
The symptoms of damage vary depending upon the event or events that caused the damage. The most common symptoms are "breakage" - hair that breaks easily, a bad case of the "frizzies", split ends, hair that has lost its shine or luster, and hair that has rough spots or feels rough all over. But there are ways to deal with this problem.
It's pretty easy to end up with damaged hair thanks to all of the products, coloring processes, hot rollers, blow dryers, and curling irons that we subject our hair to on a regular basis. But not everything is our fault. In general, wear and tear is part of nature: wind, rain, pool, saltwater, sun, and even pollution can also result in damage of some sort.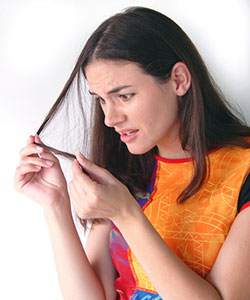 Damage Control
Hair is not alive and just like our nails they can't be repaired by cellular regeneration once damaged – think of that chipped or broken nail. All we can do is to cut the damaged part and allow newly-grown hair to replace the old.
However, there are ways to repair the damage hair "artificially"; there are products and intensive treatments that can help you repairing damaged parts to some extent. Repair products contains silicon-based polymers or hydrolysed keratin that can fill and glue those small cracks on your hair fibre by covering your hair with some protective film and bring your hair back in shine - at least from cosmetic point of view. These products include moisturizing, intensive conditioning and reconstruction agents to nourish your hair and to make up for any keratin loss.
Senscience Inner Restore Intensif Deep Repairing Masque- If you are on a budget, try the travel size 1.7Oz of this treatment. It's a silicon based masque and a good overall treatment.
Joico K-Pak Deep Penetrating Reconstructor - Is your hair damaged by heat and feels dry? This will help. Leave it on your hair for 5 min and it will rehydrate your hair.
Joico Moisture Recovery Treatment Balm - If you have a coarse hair type then go for this blue package. This is not a repair product, but is rather an intense 5-minute rehydrating treatment. Use it when your hair feels dry and brittle.
Some of these products provide you with some temporary solution and is quite useful especially when you are away for long business trips or holidays and have no access to your stylist.
There are two types of treatment: One for overheated and dry hair, and another designed for damages caused by chemical treatments such as a perm.
L'Oreal Serie Expert Power Repair B - It's a rehydrate and repair conditioning treatment and works best for chemically-damaged hair. It's expensive, but it helps to restore your hair back to its glory… Well, maybe not all the way back, but mostly all of the way back.
Joico K-Pak Reconstruct Split End Mender - Chemically treated hair? Then this is the right product for you. It contains dual-polymer technology that deeply penetrates porous hair ends, mend and protect to certain degree. Don't expect any miracles but expect it to help a lot.
These products also offer additional protection and will help preventing (reducing) future damage while cleansing and conditioning hair fibres. Products rich in antioxidants can also help repair cellular damage caused by pollutants and product build-up.
Hair Split Ends
Split ends are the easiest type to control. Split ends are the result of normal hair wear and tear, but can also be caused by towel-drying your hair too vigorously when it is wet, over-blowdrying, and excessive coloring, bleaching, or perms. Another factor that can lead to split-ends is sun exposure. Fine hair is especially prone to splitting.
There is no real cure for split-ends, unfortunately. All you can do is have the ends trimmed and be more careful in the future. However, it can be repaired by special serums (lotion-type products) containing polymers that helps mending the damaged area and provide a temporary solution.
Kerastase Resistance Fibre Architecte for Split Ends - Seals and repairs very damaged lengths - Expensive but very effective.
Caviar RepairX Split Ends Mend from Alterna - Helps seals split-ends and protect your hair.
BC Repair Rescue Sealed Ends from Schwarzkopf Professional - Good for those that have damaged dry hair.
White Sands The Cure 24/7 hair cell renewal - If you got fine hair then this is for you! Effective for flyaways.
If you suffer from chronic split-ends then resign yourself to having a regular trim every six weeks, or so, as the damage reappears. Keep your hair fortified by using special conditioner once per week and shampooing with a mild shampoo. Be careful not to scrub your hair too vigorously as this may intensify the problem.
Paul Mitchell Awapuhi Wild Ginger Keratin Intensive Treatment - Do not think of it as a repair treatment but more like a weekly conditioner to enhance and protect what you have with intense moisture and shine and reduce future damage.
Hair coloring and other chemical treatments should be avoided until your hair gets a chance to stabilized and get its natural condition. Continue with the conditioning treatments until your healthy hair has grown back in.
Related article:
Using Natural Keratin to Prevent Hair Damage
-
Whitney Cox
from Keraplast.com explain hair damage and differences between hydrolyzed keratin and functional keratin in hair damage treatments.