Chin-skimming Bob Hairstyle
In the fashion and hair realms, Katie Holmes has always made classic and timeless choices -- This shiny, swingy and chin-skimming bob looks good on a variety of face shapes -- here's how to copy the look.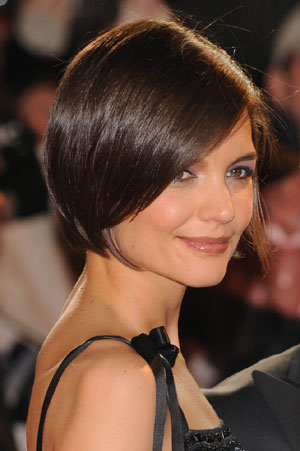 Katie Holmes with asymmetric bob haircut - London 2009
Finding the right length for a bob like this requires excellent knowledge of your face shape. Oval and heart-shaped faces are ideal for the chin-skimming bob with elongated bangs. Her bob is Vidal Sassoon-inspired thanks to its slight angle. The angled look with off-center parting can also flatter square faces.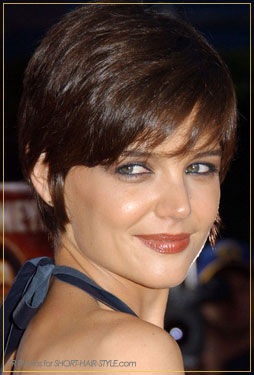 Photo: Albert L. Ortega
The longer bangs were the result of a former grown-out pixie cut she had back in summer 2008.
If your hair texture is straight or wavy, you can rock Holmes' bob. But if your hair is extremely curly or coarse, this type of bob may not be for you.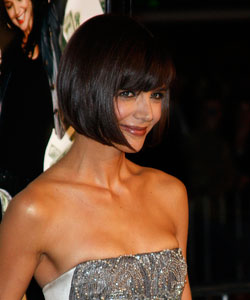 Katie Holmes with short bob hair style - Los Angeles Premiere 2008, CA
Katie Holmes sporting her short hair in a sharp, edgy and angled bob haircut inspired by Mary Louise Brooks (1920's actress from silent movie).
Styling
Holmes' hair is so shiny you could probably see yourself in it. To achieve it, you'll need the secret weapon of Jennifer Aniston: Sebastian Potion 9. Apply a dime- to nickel-sized amount to wet hair before blow-drying and let the product's nine botanicals soften your hair to make it as silky as Holmes'.
Unless your hair is extremely straight and well-behaved, you'll likely need a straightening iron to achieve the glossy, straight finish. A ceramic flatiron with an adjustable temperature setting is best because it is less likely to damage your hair. If you have very thin or straight hair, start off on the lowest heat setting because damaged locks don't equal shiny locks. I personally use a CHI straightening iron but you can look for an iron that has all-ceramic plates because one that simply has a ceramic coating won't offer enough protection.
Lift a one-inch section of hair and make a pass with the straightening iron from close to your roots to the edge of your hair, gently curling the ends of your hair under. If your hair is slightly wavy, pulling down and creating tension can maximize straightening power.

What about her makeup? Here some tips