Keratin Treatment Fried my hair beyond my worst nightmare
by Alison
(Silver Spring MD)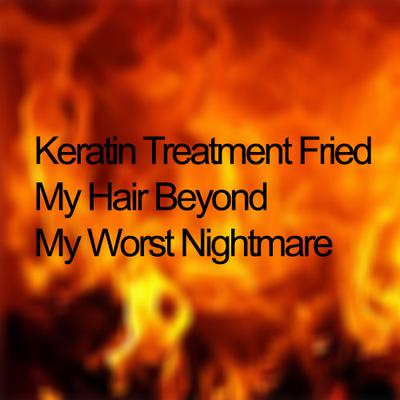 I recently received a keratin treatment at an Aveda spa in Maryland. The stylist is a friend of mine and has before this, always done an amazingly good job with my hair. My hair is medium length, medium wavy, and a little bit fine. After decades of professional platinum blonde highlights, and the last few years of heavy flat iron use, I thought I needed a serious conditioning treatment. The stylist assured me this product had no formaldehyde. I think the treatment stayed on my hair for 15-30 minutes, in addition, the stylist used a flat iron throughout, to seal in the product.

In total, I was there almost two hours, and I was asked not to wash my hair for 48 hours. Those two days, my hair was extremely flat, but that was not the worst of it. When I finally washed my hair, I noticed it had been completely destroyed. The structure of each hair strand looks as bent and wiry as corn-husk hair, But drier than dry. The strands do not lie flat, but frizz beyond recognition. It is so awful. My scalp is also pink and tender.

This is the worst hair experience I have ever had. My stylist assures me that others have had great result with this treatment. Perhaps, the product stayed on too long for my particular hair. Perhaps the flat iron within the process was too much. But it is really bad. I do not recommend this procedure for anyone.