Kids Hair Salons for Busy Parents

Getting younger children to go to the salon, to agree to the short hair style you want, and to do the needed hair care could be a challenge.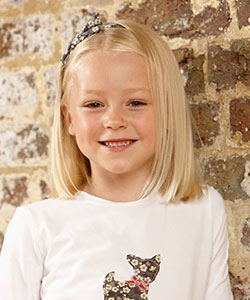 Photo by Trotters, London
Kids hair cut is an interactive experience and experience stylists should be trained to guide the child and their family through the experience.

There are special hair salons where children are entertained with computer games, stories, books, and songs.



Kids Hair Salons
CartoonCuts - Offers a full range of salon services for children and adults. These kid hair salons primarily designed for children under 12. This is an ideal place for a fun hair cut. Cartoon Cuts owns more than 20 stores around U.S.

USA - http://www.cartooncuts.com
SnipIts
- Another Disney-type place for a kid to get a haircut. At the styling station, with Mom close at hand, the Snip-its stylists work their magic, while the kids entertain themselves with the Snip-its Adventure Play Station, featuring custom computer games and activities with the Snip-its characters.
USA - http://www.snipits.com
CoolCuts4Kids
- Dedicated kid hair salon that provide children's hair care services, an enjoyable experience for children and a relaxing environment for parents.
USA - http://www.coolcuts4kids.com
Toadly Kool Me Kid's Salon
- Another dedicated kid hair salon in NC. At Toadly Kool Me Kid's Salon, children can enjoy getting a haircut while sitting on a John Deere Tractor, a little red airplane or a hot yellow Mercedes.
USA - http://www.toadlykoolme.com
Sweet & Sassy Children Hair Salon
- Sweet & Sassy is a salon, spa and party place, specializing in girls' celebrations with a child-friendly fashion runway, pink party limo, pop star and princess parties, and an offering of spa inspired services tailor-made for kids. Services include haircuts, specialty up-dos, mini-manicures, mini-pedicures, ear-piercing, spa girl packages, and a selection of six signature parties.
USA - http://www.sweetandsassy.com
A Hair For Kids Salon LLC - A salon that entertains children's first haircuts with fun hair chairs like princess pony, Barbie car, Harley motor cycle, Lightening McQueen car where kids cry when they leave instead of cry when they come!
USA , Wisconsin - 14023 West Greenfield Ave. New Berlin, WI 53151
KiddiesKuts
- KiddiesKuts.com have hairdressing salons in Dublin and couple of other cities designed just for kids. Kids can sit in child-sized chairs watching cartoons on individual televisions while friendly, hairdressers snip and curl and chat with the them.
Ireland - http://www.kiddieskuts.com
LittleTots
- 15 years experience cutting kid's hair.Canadian owned Kid friendly environment.
Canada - Toronto - http://www.littletotshairshop.com
MelonHead
- Another recommende kid hair salon by one of our visitor. Friendly environment designed to amuse kids with toys, books and allow parents to relax while children get a new hair cut.
Canada - Toronto - http://www.melonhead.ca
Beaners Fun Cuts for Kids - With over 20+ years of experience, Beaners has become recognized as Canada's premiere specialty hair salon catering to kids of all ages and their parents. Kids can sit on coin-operated rides, Barbie Jeeps, Quads and watch their favorite DVD's. Older kids can sit on regular adult chairs and test their skills on a PS3! There's even a ballroom for the kids to play in. offer a wide variety of services: Ear Piercing, Themed Birthday Parties, Up-Do's, Color Braids, Bizzy Braids, Mini-Manicures, Fantasy Color Hair Extensions, Hi-Lites and Perms.

Canada - http://www.BeanersFunCuts.com
Trotters- Trotters in London is famous for it's hairdressing service for kids. They have five shops now, located in Kings Road Chelsea, Northcote road Clapham, Guildford, Turnham Green Chiswick and Kensington high street and a huge aquarium full of magnificent fish will entertain children as they have their haircuts.

UK - London - http://www.trotters.co.uk
Harrods - Harrods Knightsbridge store in London have a Children's hairdresser for kids under 11 years old. All kids with first time hair cuts receive a certificate and lock of hair.
UK - London - harrods.com
tantrum
- Based on the infamous Kings Road in London, tantrum is certainly more than just a haircut. The ground floor, 'Moon' is for children up to the age of 7, and is set in an enchanted forest complete with it's own locomotive train that runs around the styling stations. Children get their hair cut in a variety of vehicles and get to watch a film of their choice on their flat screen TV. The basement floor, 'Vogue' is a bit funkier and is for 7-14 year olds. Looking something like a mix between a pop stars' dressing room and backstage at fashion week.
UK - London - http://www.yourtantrum.com
Little snippers
- A kids friendly salon with special small childrens cutting chairs just for the kids. Little snippers has it's own play area for the children to keep them busy while they are waitingand they offer a wide range of salon services for both kids and parents.
UK - Birmingham - http://www.littlesnippers.net