Make Your Concealer Work for Your Skin
Makeup Concealer helps to diminish blemishes on your skin, whether these are actual blemishes, dark spots, under eye circles, or age spots.
Choosing the right concealer for your skin is imperative— you should choose a concealer that is one shade lighter than your foundation color, and for under your eyes a concealer that actually lifts the darkness…sometimes this means that your concealer will be warmer than your natural skin tone. And also choose a more soft and creamy type that does not dry out and stays on.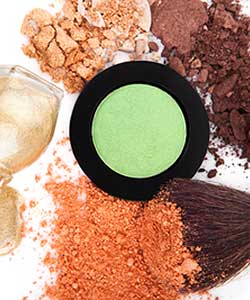 However, when applied to the area that needs correction it will actually make it all look even. A concealer that' too light for you will give you white marks under your eyes, and this is not desired. Apply concealer after you have applied your foundation to keep from wearing the concealer off while applying foundation, and always use a brush.

Use a fine tipped make up brush or special coverage concealer brush to apply your concealer on your blemishes and use a larger one for your under eye, this way the concealer under your eyes will look very natural.

Dip your brush in the concealer and apply it to your blemish in small, circular motions. This will help to blend the makeup into your foundation. As with applying foundation, blending is the key. Use your makeup brush to blend the concealer into your skin so that it covers the blemish but doesn't appear to be lighter or darker than the rest of your face.
For under-eye application the best choice is to use concealers that has color-correction properties. If you have age spots, choose a makeup concealer that cancels out the color of the spot. This means that sometimes you'll use a warm color (red based) and then a yellow concealer over it to bring it back to match your skin tone. If the spots or dark circles are reddish or pink/purple in nature, then you'll use a yellow/ green concealer. Concealers are no longer limited to certain prime colors - today they come in a wide range of undertones to suit different needs. That makes it difficult to choose and harder to use for situations that require color corrections. Getting a concealer palette is recommended because it allows you to freely play with different shades and be more creative as result.
When applying, try to cover the inside of the bridge of your nose and the outer corners of your eyes with concealer and blend it in well— this is a hot spot for dark areas. Don't apply too much concealer to your blemishes or it will look caked on.
The mineral concealers from bare mineral are perfect choice for covering dark circles and skin imperfections such as brown and red spots, blemishes, broken capillaries and even small scars. They also come with added sun protection of SPF 15 and SPF 20 for best sun protection for face.
As for Powder...
You should choose a light, sheer, translucent foundation powder to put the finishing touches on your foundation and concealer. The powder will set your foundation and concealer, help to keep the concealer from cracking and will smooth out your complexion with an overall sheen.
Whether you are using compressed or loose powder, it's best to apply powder foundation with a large make up brush. Get some powder onto your brush and lightly dust your face.