Relaxed to Natural Without the Big Chop
The big chop is when the relaxed portion of your hair is cut leaving natural coils or a bald head. It is a drastic change if you are used to length. For some, it may be a part of the liberating process, but for those who are not ready to part with their mane, here are several helpful hints.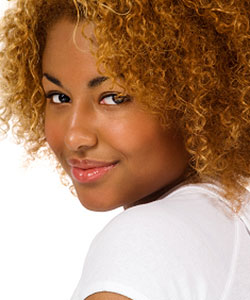 Cute Curly Look
Styles that can incorporate your coils as they are revealed and leave your straightened hair in tack exist. Setting your hair using small- and medium-sized rollers will give you a cute, curly look. The heat from the hair dryer will slightly straighten the coiled roots. This style is also a no fuss style that will allow you to continue to grow out your natural roots.
Start by washing and deep conditioning your hair
Apply a leave-in conditioner and a setting lotion
Parting your hair evenly, wrap your hair in spirals around the roller
You can use hair clips or the roller cap to tightly affix the rollers all over your head
Depending upon the thickness of your hair and the thickness of the hair you wrap around the roller, drying times will vary from 30 minutes to about an hour. This style should last about a week. As the curls loosen up, feel free to pull them back into a pony tail or use a head band or both for more cuteness.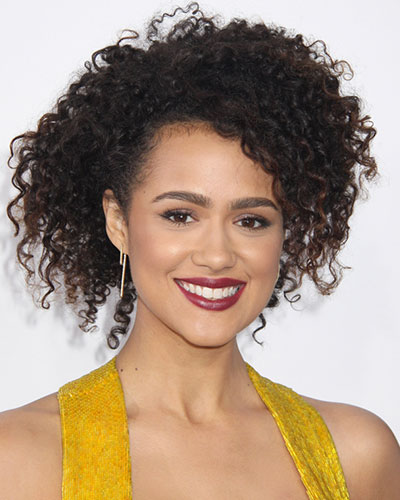 Nathalie Emmanuel with her cute natural curls - Photo Credit: Kazuki Hirata
Product to Use
Another great way to avoid the big chop is to use products that are formulated for both relaxed and natural hair. Mizani Thermosmooth Thermal Smoothing System works well from smooth, sleek styles to tight, springy coils. It is a 4-step application process that strengthens and de-frizzes hair with immediately noticeable results. The packaging boasts that it will increase the time between relaxers, but in your case, it will allow you to maintain straight looks while you transition to natural hair. This product works best with flat ironing and includes a heat protectant spray.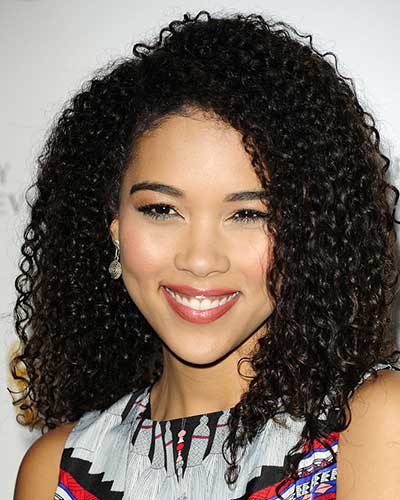 Alexandra Shipp with her natural look
Braid Your Way Through Transitioning
Braids using synthetic hair are always a great go-to for transitioning your hair. The key to making braids work for you is summed up by being mindful of the two T's: type and tightness.
First, you have to choose the type of braids. Stay away from micro and smaller braids as they lead to breakage. Professionally braided small to medium sized box braids or Senegalese twists are best. They are not as versatile as smaller braids, but sill will work well for the professional look as well as more casual styles.
Secondly, be clear with your braider about the level of tightness you desire. Most braiders will braid hair tightly to insure longevity, but tight braids can also cause damage and breakage. Reassure your braider that it is acceptable to you that your braids are not extremely tight. While you run the risk of braids slipping off the root, as your natural tresses begin to grow out, your braids will have a better grip. Care for your hair and scalp while you are wearing braids by using braid products. Braids can last up to two months with proper maintenance, but it is best to remove braids after 4 weeks.
Going from relaxed to natural does not have to be a traumatic experience. Once you've made the decision to leave relaxers, begin the process of doing what works best for you to move to completely natural hair.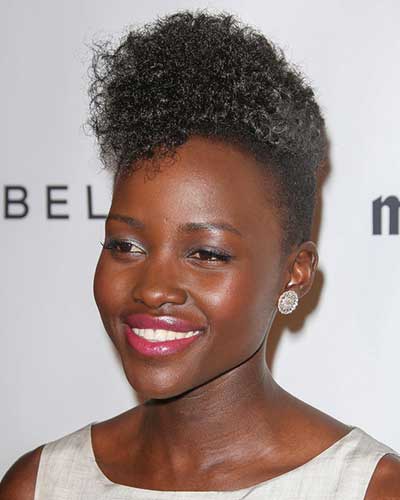 Lupita's hair is a true natural beauty
If the big chop is for you, then chop away. However, if a more gradual process is more your speed, a good wash and set, great de-frizzing products, or braids may be just what you need to accomplish your natural hair goals.
Videos