Pale skin and blue eyes - Should i dye my hair black?
by Amanda
(Glasgow)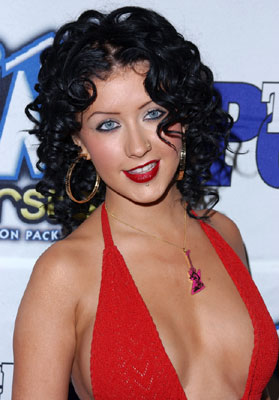 Christina Aguilera - Black hair and blue eyes
Recently I dyed my hair bright red from platinum blonde, I would like to go black as I can't go back to blonde as my hair is too damaged. I'm not too sure if i would suit black hair, but I cannot go brown either as it will go ginger. I have blue eyes and pale skin, would I suit black hair?


Black hair and blue eyes
I think black hair looks amazing against bright blue eyes and if you have a pale skin then combination create the best contrasting effect and make eyes really to stand out. Make sure to get the right cut and style that goes with the new you.
Black may be too Extreme
Even though black would highlight your blue eyes keep this in mind.
1. it sometimes has the possibility to make pale skin look even paler
2. damaged black hair isnt a good combo
because your natural hair color after a little while tends to show through black hair coloring unless you plan to manage it alot and its extreme on certain people.
Not the best
I have naturally dark brown hair and very pale skin, currently light brown. I went black about 2 years ago and in photos I don't look healthy at all and my face always looked washed out even though like you my blue eyes really stood out. I had it cut really short and it seemed to make me look less ill.
If you are going to go black I would suggest boy short hair styles this way it makes you look less sickly, frames your face and you eyes really pop.
I think its all about ratio dark to light when you have pale skin over the years I've found lighter my hair the longer I can wear it and darker the shorter and seems to suit me.
Click here to answer or post comments