Root Touch up Colors - What to Choose
It can start just 10 days after you color: those nasty roots start growing back and becoming noticeable. And by three weeks, you're afraid to leave the house without a hat! Makers of hair care products have finally figured out what women (and some men!) have known for ages: we need a simple touch-up product for roots in between colorings. One that's easy to apply and looks natural.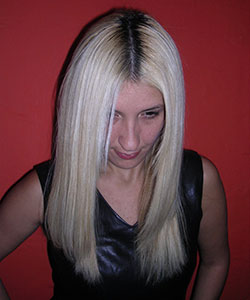 Photo: Jesse Briggs, Yellow Strawberry Salons, Florida
Lately, so many new root concealing products have come on the market that it's hard to know what to buy. So let's take a look at the various types available, from brush-ons and markers, to powders and sprays.

Spray-On Root Concealer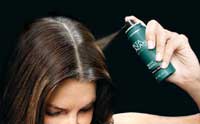 This is a fairly new category and Rita Hazan Root Concealer leading the way. Aerosol-propelled color pigments made of natural cosmetic grade minerals is sprayed directly onto the roots you want to hide. The color blends seamlessly with your existing shade and dries quickly.
Pros and Cons:
Fast and easy to use.


Blends well.


Only lasts until next shampoo.


Expensive compared to other options.


Smaller bottle runs out quickly.
Currently only available in US in four shades: Dark Brown/Black, Light Brown, Blonde, and Red/Auburn.
Dry Shampoo & Root Color In One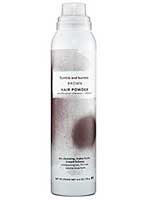 This is a hybrid of sorts, a dry shampoo that adds body and covers up roots. Made by Bumble and Bumble, the spray-on powder absorbs hair oil so you can go another day before shampooing. It also builds volume, especially helpful for fine or limp hair. And the tint built into the powder conceals grays and new root growth.
Some short-haired girls love this option because they can often get away with washing their hair less and work the slightly roughed-up look at the same time. This is one fun product to have!
Pros and Cons:
One product does a lot: instant body, enhances color, blends in roots, adds grip for up-dos, and cleans the hair.


Extends the life of your hair style and color.


Can make hair appear dry.


Not suitable for all hair types.
Hair Color Markers, Pens, and Sticks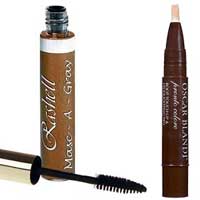 There's a wide range of choices in this category. Some come with a mascara-type wand; others resemble felt markers or cover sticks.

They deliver color to the visible areas you want to camouflage. And because they're usually sold in small tubes, they travel well for root touch-ups on the go.
For example Oscar Blandi make root cover pens you use like a marker to color in your roots, serving as a stopgap between hair color treatments. This may extend your hair color timing by a week or so. While Blandi's is called the "Pronto Colore" pen, others are available at your local beauty or hair products supply store.
Pros and Cons:
No drips or mess, dries in minutes.


Comes in different shades to blend with permanent hair color.


Easy to use and portable.


May feel waxy or powdery on the hair.


Only lasts until next shampoo.
Brush-On Permanent Root Color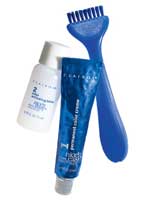 The brand you might be most familiar with in this category is Nice 'N Easy's Root Touch Up. It works like this:

You start by mixing the color crème and activator in a tray. Then use the special brush to apply it onto roots in the obvious trouble spots: part, hairline and temples. Leave to develop, rinse out and your color should be good for three more weeks.
Pros and Cons:
Lasts much longer than temporary touch-up products.


Requires nearly as much time and effort as full head application.


Costs almost as much as regular hair color kits.
Remember that this is a permanent hair color touch up and available shades might not be fully compatible or match salon professional color/brand you use.